Unless otherwise stated, images by
John Reeve
on this site are licensed under a
Creative Commons Attribution-NonCommercial-NoDerivs 3.0 Unported License
. ...
more info
...
Photography by John Reeve
Photographs of the Yukon. Photographs of other places from a Yukoner's perspective.
Nature, landscapes, flora and fauna, close-ups, abstracts, impressionistic images, more...
Photography for the art of it. Photography for the joy of seeing.
"Creating photographs helps me to better see the world around me. It simplifies perception and focuses my mind's eye to penetrate through the visual and mental clutter of everyday life. And sometimes peering through the viewfinder, removed from normal human perspective and context, I see wondrous visions that would never appear to me any other way. As such, my camera is an instrument of discovery and imagination."
Feature Photo
A recently photographed or recently edited image. Updated fairly frequently, usually about monthly.
View previous Feature Photos
Posted December 31st, 2017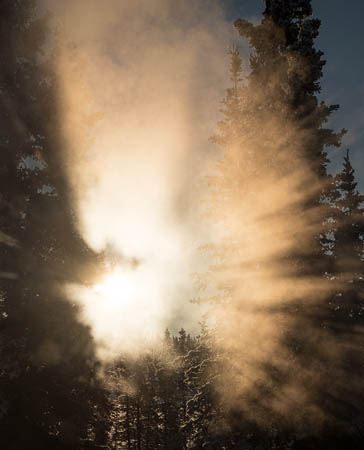 + (Click on Image)
Cold Smoke Sunburst

With temperatures in the minus 30's the past few days, I have not felt inspired to spend time outside taking pictures. So I shot this one through a window from the comfort of my livingroom. Smoke from my woodstove chimney was condensing in the cold air into thick clouds that sometimes descended and hung wherever the weak air currents wafted them. The mid-winter sun sat low in the sky where it is usually seen through tree branches and this created a wonderful light show whenever it also shone through the smoke. The sun was behind the tree on the left when I saw the first sunburst and it was magnificent so I grabbed my camera, had to change lenses and ... it was gone. Though the air was quite still, the smoke clouds only occasionally sank low in front of the sun, they settled in different locations, they were fleeting and they were constantly morphing and dissipating. I never was able to capture anything comparable to what I first saw and when the sun moved past the tree into direct view I was doubtful that would present any satisfactory photographic opportunity. Then this scene occurred, not quite what I had in mind but I do like the effect.
Pentax K-1, Pentax HD D FA 28-105mm f/3.5-5.6 ED DC WR @ 40mm, f/8
Feature Video
Posted April 5th, 2017

Star Stream and Northern Lights

Video? Though not a complete stranger to movie mode on my DSLR's, I would not by any means call myself a videographer. But this is time-lapse video, which feels more connected to still photography. My older Pentax K-5 came with an interval shooting mode built in and for some time I had been intending to try it out for this purpose, but I never got around to it. The K-1 adds quite a few additional functions to interval mode, including built-in capability to assemble the captured exposures in various ways. Letting the camera do this does limit my control over the final output, but without the disincentive of having to manage large numbers of image files and spend time assembling them after first figuring out software, it became easy to dip my toes in the water.
A full moon lit up the night that I shot this, not what I would generally consider ideal conditions for this type of photography but it worked out fine and it did allow the benefit of a low ISO setting. The still image of star trails that introduces the video was shot in interval composite mode with the bright compositing setting. It is made up of 90 30-second exposures. I was not entirely sure what to expect from Star Stream, a unique Pentax time lapse video mode, as the documentation is a bit sparse and I could not find any examples online. I maintained the same exposure settings I had used earlier in the night for the star trails composite image, set the camera to shoot 240 30-second frames, and left it for the 2+ hours recording time. Though I looked out occasionally, I did not see the clouds or the aurora, which had been completely absent earlier as witnessed by the star trails still image that obviously I had shot directly to the north. So imagine my surprise and delight when I reviewed the captured video!
It was last November when I shot this, but I struggled then with what to do with it. The recorded Star Stream video was a 4K resolution, uncompressed motion JPEG file that weighed in at a massive 1.4 MB for 30 seconds of video. Of course it would not play smoothly in any player that could even open it, and my old video editing software could not open it. I downloaded VirtualDub, with which I was able to render a playable downsized version, but it wasn't ready for prime time without some editing. I put it aside to focus on other priorities until I realized that Photoshop now has video editing capabilities sufficient for my needs. So now, finally, it is ready to show online. And I look forward to doing some more time lapse photography in the future ... so many things to try.
You can read more about this video in the description on the
Vimeo
page.
Pentax K-1, Rokinon 24mm f/1.4 UMC, 30 sec exposures @ f/2.2, ISO 200
News & Notes
Look here for announcements of major additions or changes to this website, developments affecting the author that may be relevant to content you will see on the site and, perhaps, an occasional news or informational bit that might be of specific interest to visitors here but you would not likely see elsewhere. Plus the odd post that just doesn't fit anywhere else. Don't expect frequent posts to this section, my priority for the website is the photos.

January 15, 2017 - Site Updates

If you visit this website from time to time, you may notice I have been busy on it lately. For one thing, there has been a flurry of Feature Photo additions as I caught up on processing the images from a very active month of photography last September, when I traveled around the Yukon and neighbouring Alaska with friends who were visiting from Ontario. Please check out those new images on the
Feature Photos
page, or click on the latest Feature Photo above on this page and navigate back through them in the more glorious higher resolution of magnified view.
Furthermore, I have done some long overdue maintenance on the site. Navigation through those magnified Feature Photos should now be a lot less sluggish for most users, as (I think) I have resolved an issue that was preventing pre-loading of the next image. Also, accumulated content on this Home page and especially the main Feature Photos page had made them cumbersome and slow loading for anyone without a fast connection. Older content has now been moved to other pages to make these more digestible in size. Additional and improved navigational links should provide easier, more flexible navigation through these sections. I hope you enjoy the improvements.
October 30, 2016 - New Camera: Pentax K-1

This past summer I was tempted into purchasing Pentax's new K-1, their first full frame digital offering. I will admit, this was a bit of an extravagance. I was still very satisfied shooting with my K-5, even though it is now a 6 year old model. Back when I upgraded to the K-5, it abruptly made obsolete my previous, 3 year old K10D. The K-5's 16 megapixel Sony sensor was a quantum leap in sensor technology, a real game changer in terms of image quality, shooting flexibility, and malleability of the image files in post processing. It enabled me to make images that previously were not possible. Advances in the technology have been more incremental since then and, notwithstanding the inherent benefits of a larger sensor, I was not expecting the K-1 to provide that degree of superiority over the K-5. Indeed, after shooting with my new camera for a couple of months, I still regard the K-5 as a relevant and superb tool which I will not be reluctant to use as a secondary and backup camera. But the K-1 does offer real advantages, particularly in challenging photographic situations, and it also adds some useful features on top of the K-5's arsenal.
The K-1 is a well featured camera but, while not exactly cheap, it considerably undercuts the prices of comparable full frame competitors. That was a significant factor in my purchase decision, of course. It uses a version of the same 36 megapixel sensor found in the highly regarded Nikon D800/810 models as well as Sony's own A7R. It has all the useful, uniquely Pentax features that I am familiar with from my previous Pentax DSLR's and further expands upon them. Many of these features leverage the sensor shift image stabilization system, which Pentax apparently had to redesign from scratch to deal with the larger, heavier sensor. In spite of that challenge they managed to improve its effectiveness from
A primary benefit one expects from a larger sensor is better low light and high ISO performance. This was a key motivation for me to get this camera, considering my love of northern lights and other night sky and general nighttime photography. The K-1's ISO performance does not disappoint; I estimate a 2 stop advantage compared to the K-5, which is no slouch in this regard. Look at the portrait of Neil Zeller, the presenter we brought up from Calgary to instruct the Whitehorse Photography Club's recent annual fall workshop. Lit by the glow of his laptop screen, I photographed him at ISO 6400. This is an Adobe Camera Raw conversion of the raw file with no adjustments except that I actually reduced the colour noise reduction amount to 10 from the Adobe default of 25; there is no luminance noise reduction. Click on the image to view a 100% (pixel level) crop. I am especially pleased by the fine grain of the noise. Mind you, I would apply a bit of luminance noise reduction as well as some sharpening for any purpose other than this example. Note also that this is a handheld 1/6 second exposure with a focal length of 105mm, demanding 4 stops of stabilization from the shake reduction system.
I was not expecting night sky images taken at ISO 6400 to satisfy me, and they do look a bit rough in subtle tonal transitions in the sky, though not necessarily any worse than ISO 1600 K-5 exposures. ISO 1100 has been my default starting point with the K-5 but when possible I try to use ISO 800 for cleaner output. With the K-1, I am leaning towards a default ISO of 1600 for this type of photography, which is sensitive enough for most situations and produces cleaner, smoother results than I could ever achieve with the K-5. It is nice to know that ISO6400 is usable if I have reason to go there.
The K-1 includes a built-in GPS, but that comes at the expense of no built-in flash. I use GPS more than flash anyway, so I can live with that, though I might occasionally miss being able to add fill flash to an exposure. I do have a couple of compatible external flashes but I am not inclined to routinely pack one when I would rarely use it. The GPS works in conjunction with sensor shift to provide "astrotracer" capability, a sort of limited substitute for an equatorial mount to track celestial objects as the earth rotates. This is not entirely a new feature and I have enjoyed playing with it using my K-5, which requires an external GPS module. See my
Orion Nebula
Feature Photo for an example.
A new feature that utilizes sensor shift is called "pixel shift resolution". In this mode, the camera makes 4 exposures while moving the sensor by one pixel for each exposure, and combining them such that each pixel in the composite image contains full RGB colour information. This is similar to the output of a Foveon sensor, characterized by higher apparent resolution (though the composite image still is 36 megapixels) and improved colour fidelity. I do not expect to use pixel shift very often, as use of a tripod is essential, any movement in the scene can cause problematic artifacts, and the RAW files are massive at about 150 megabytes. But for a special image that I might want to print large, even compared to the superb standard output of the K-1 the improvement with pixel shift is noticeable. The Tombstone Valley image below was made with pixel shift resolution. It may not provide a meaningful benefit for a web image, but click on the photo to see a split 100% crop that compares this image with a non pixel shift version I exposed immediately afterwards with otherwise identical settings and processed identically.
I bought one new lens with the K-1, the new Pentax HD D FA 28-105mm f/3.5-5.6 ED DC WR. The variable aperture is rather slow and I would have liked a bit more focal length range at the wide end, but the image quality is excellent with consistently high corner to corner sharpness. I also like that it is fairly small and light, it is weather sealed, and it cost considerably less than the alternative Pentax offering of a rebranded Tamron 24-70mm f/2.8 which often is criticized for poor corner sharpness and vignetting. I do have a number of excellent, fast, full frame prime lenses spread through this focal length range, and they all will certainly see use on my K-1, but the practicality of a standard zoom lens for general photography compelled me to get this lens. My other modern wide to normal zoom lenses are designed for APS-C format and their image circles generally don't come close to covering the full frame sensor.
The SMC Pentax DA* 60-250mm f/4, one of my favourite lenses, also is specified as an APS-C optic. But apparently it was originally designed for full frame and only the addition of a baffle inside the rear mount impinges on its full frame coverage. I removed the baffle, following a fairly simple and well documented procedure. The modified lens works wonderfully on the K-1 and I have not been able to discern any detrimental effects from the modification. It has always been a bit susceptible to flare when shooting into intense light but this does not seem any worse with the baffle removed. I love this focal length range, perhaps even more on the full frame camera where the wider coverage keeps me shooting longer around the 60mm end when I would have to change lenses on an APS-C camera. In fact, I believe this has been my most used lens on the K-1 to date.
My Sigma 150-500mm f/5-6.3 APO DG OS HSM is a full frame lens. However, on this and some other of their lens models, Sigma deviated from the Pentax K mount standard with a larger diameter flange, and this interferes with the K-1 body above the mount area. To Sigma's credit, they have offered a free mount replacement service to provide K-1 compatibility. So I shipped my lens off to the distributor and got the fix, which included a firmware update.
The one notable absence in my full frame lens kit is an ultrawide zoom. Only one such lens is currently available in Pentax mount, a Pentax branded version of Tamron's 15-30mm f/2.8. Though it gets excellent reviews, it is big and heavy, and I find it hard to justify spending CAN$2000 for it. I don't need such a wide aperture in this category and I wish for a smaller, lighter, less expensive option. As things stand, a pair of optically superb, Samyang manufactured, manual focus primes must suffice to serve all my ultra wide angle duties. My Bower 14mm f/2.8 and Rokinon 24mm f/1.4 are my go-to choices for northern lights and other wide night sky views in any case. The Bower mainly filled this role on my K-5 and its even wider coverage on the full frame camera expands its usefulness for capturing sky-spanning displays. But for daytime use with the K-1, I find it difficult to focus accurately at distances less than "infinity", and even the great depth of field cannot always mask my focusing errors. The 24mm Rokinon really comes into its own with a much more useful angle of view in full frame shooting. Its fast aperture and the K-1's superior high ISO performance are a killer combination for nighttime photography.
My other full frame prime lenses in current use are the much praised Pentax FA 31mm f/1.8 Limited, a Pentax FA 50mm f/1.4, Sigma AF 70mm f/2.8 EX DG Macro, and Kiron 105mm f/2.8 Macro. The latter is the only lens from my 35mm film shooting days that ultimately withstood the test of digital, and it remains one of my favourites. I still have my collection of other film lenses that I put on a shelf after I tested them when I got my original Pentax K10D DSLR and I was not satisfied with the results. Perhaps I should give some of them another try and see if they might work better with the full frame sensor.
Merry Christmas 2015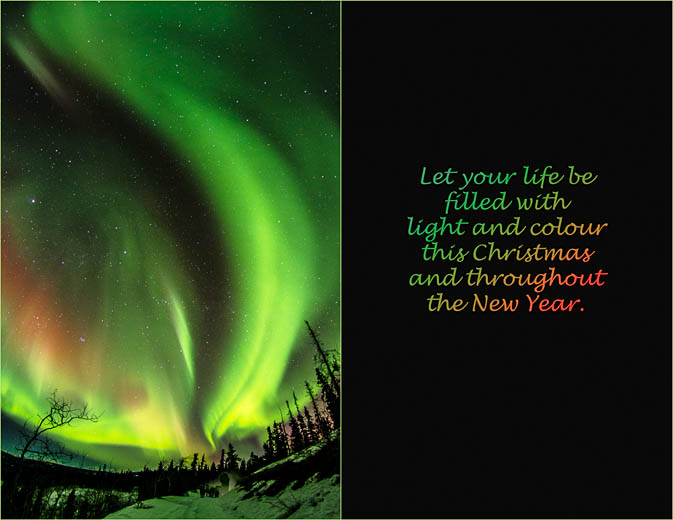 + (Click on Image)
Christmas 2015 Greetings and Best Wishes to All

The image I used on my Christmas card this year is an edited version of a photo that is included in my
Aurora Extraordinaire
gallery. I added the dog team from a photo I had taken in bright sunshine at the start of the 2011 Yukon Quest race, using Photoshop to massage it to look as natural as possible in this scene under the dim green illumination of the northern lights. A version of this image earned an honourable mention in the 2015 North Shore Challenge, an annual photo competition run under the auspices of the Canadian Association for Photographic Art. For the version on this card, I made some warp adjustments to slightly reduce the fish-eye effect of my widest angle lens, which I needed to capture the expanse of sky that was filled by the auroral pattern.
Pentax K-5, Rokinon 8mm f/3.5 Fisheye, 23 sec @ f/3.5, ISO 800
Sticky:
September 2, 2012 - Creative Commons License

Although I am never averse to earning a bit of revenue from my images to help offset the expense of my craft, I decided many years ago that I was not interested in pursuing photography as a career. I valued it too much as a hobby to sacrifice that to the demands, responsibilities and compromise of creative freedom that go with the profession. Still, like most creators, I do not want others to take advantage of my work for personal gain with none of the benefit accruing back to me and I worry about the potential for unscrupulous people to misuse my photos for nefarious purposes, possibly with legal consequences to me. Thus I have been protective of my copyright. This often has been an uncomfortable stance for me, especially since I started this website with my main purpose being to share my artistic vision with the world. I have resisted the precaution of marring my website images with a watermark or employing techniques that make it harder to download them, relying mostly on relatively low resolution to limit their commercial value. I know many people download images with callous disregard for copyright and really I am fine with them doing so for their personal enjoyment. I am not so thrilled that my work could be widely distributed with no credit being attributed to me as the creator. To publicly license rights for such uses with proper conditions is a legal minefield I am not prepared or qualified to navigate by myself.
I first became aware of the Creative Commons a couple of years ago. I was attracted by its facility to proffer certain usage rights to the public that I wished to allow, backstopped by a solid legal license and appropriate conditions of use. I considered adopting one of their licenses at that time but did not get around to it, partially out of concern that it did not adequately protect against use for purposes that might misrepresent me by contradicting my personal viewpoints and values. That concern remains but, on balance, the Creative Commons provides the best framework I am aware of to share my photographs without making criminals of users who respect the conditions of the license, while encouraging attribution to me and maintaining reasonable safeguards against abuse ... or at least a sound legal basis to address abuses.
I have chosen to adopt the
Creative Commons Attribution-NonCommercial-NoDerivs 3.0 Unported License
, the most restrictive of the Creative Commons license options. If someone wants to use my work for commercial purposes I generally expect compensation for this so they must negotiate a separate license with me. I am more receptive to people wanting to create derivative works using my images but to guard against them being used in ways that I would find objectionable I maintain the requirement that they obtain specific permission from me.
I have written more
here
about how this Creative Commons license applies to my images on this website.