Unless otherwise stated, images by
John Reeve
on this site are licensed under a
Creative Commons Attribution-NonCommercial-NoDerivs 3.0 Unported License
. ...
more info
...
Photography by John Reeve
Photographs of the Yukon. Photographs of other places from a Yukoner's perspective.
Nature, landscapes, flora and fauna, close-ups, abstracts, impressionistic images, more...
Photography for the art of it. Photography for the joy of seeing.
"Creating photographs helps me to better see the world around me. It simplifies perception and focuses my mind's eye to penetrate through the visual and mental clutter of everyday life. And sometimes peering through the viewfinder, removed from normal human perspective and context, I see wondrous visions that would never appear to me any other way. As such, my camera is an instrument of discovery and imagination."
Feature Photo
A recently photographed or recently edited image. Updated fairly frequently, usually about monthly.
View previous Feature Photos
Posted August 4th, 2016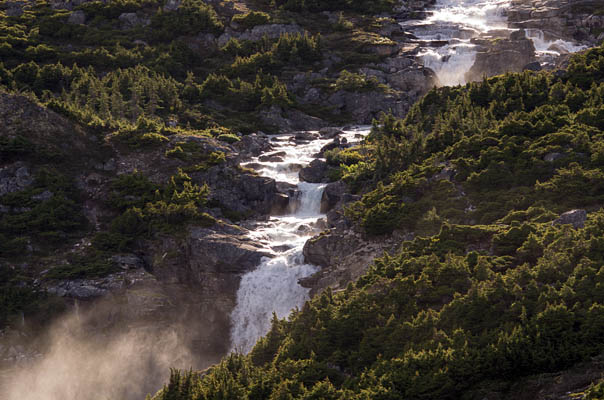 + (Click on Image)
White Pass Waterfall

This photo shows just a part of the river's long cascade down a mountainside near the White Pass summit. It was shot from the South Klondike Highway, on the Canadian side of the border with Alaska. The backlight from the evening sun produced blinding reflections off the water, in extreme contrast to the dark shadows under the trees and cliffs.That made exposure and post-processing quite tricky, but the scene was exhilarating to behold and I think I managed to capture a good part of its essence in this final image. It was late June when I made this exposure; lately I seem to have a hard time getting around to processing my photos and posting to this site.
Pentax K-5, Sigma 150-500mm f/5-6.3 APO DG OS HSM @ 150mm, 1/250 sec @ f/5.6
News & Notes
Look here for announcements of major additions or changes to this website, developments affecting the author that may be relevant to content you will see on the site and, perhaps, an occasional news or informational bit that might be of specific interest to visitors here but you would not likely see elsewhere. Don't expect frequent posts to this section, my priority for the website is the photos.

Merry Christmas 2015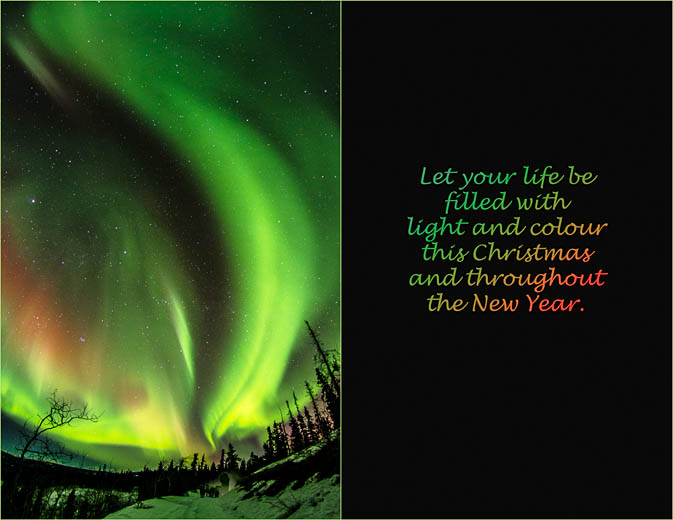 + (Click on Image)
Christmas 2015 Greetings and Best Wishes to All

The image I used on my Christmas card this year is an edited version of a photo that is included in my
Aurora Extraordinaire
gallery. I added the dog team from a photo I had taken in bright sunshine at the start of the 2011 Yukon Quest race, using Photoshop to massage it to look as natural as possible in this scene under the dim green illumination of the northern lights. A version of this image earned an honourable mention in the 2015 North Shore Challenge, an annual photo competition run under the auspices of the Canadian Association for Photographic Art. For the version on this card, I made some warp adjustments to slightly reduce the fish-eye effect of my widest angle lens, which I needed to capture the expanse of sky that was filled by the auroral pattern.
Pentax K-5, Rokinon 8mm f/3.5 Fisheye, 23 sec @ f/3.5, ISO 800
March 23, 2014 - Whitehorse Photography Club Print Exhibition

UPDATE:
The show was a great success, viewed by hundreds and the subject of many favourable comments.
If you are in Whitehorse this April, please visit our print exhibition at the Yukon Arts Centre. I will have a couple of pieces in the show. If you can make it to the opening reception on the 4th, some of us will be there to meet and talk with you. By the way, contrary to what the poster below says, we have had a few print shows in the past; I participated in 3 of these. But those were many years ago in the pre-digital era and, until now, the present generation of the club has concentrated its efforts for the public on presenting workshops. There will be another one of those this autumn.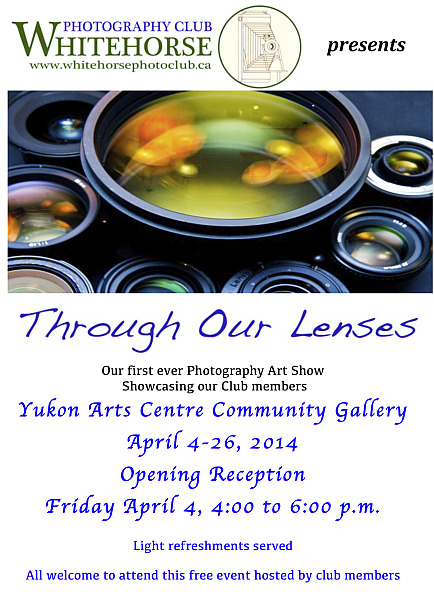 For more information about the club including online member galleries, go to
http://whitehorsephotoclub.ca
.
March 2, 2014 - New Gallery: Aurora Extraordinaire

And so it was that I feel compelled to present this gallery and show my record of this awe inspiring natural phenomenon to others who were not privileged to experience it first hand. To be clear, the photos cannot reproduce the experience of being there. This highly active aurora was often full of rapid motion and undulating brightness and that was a big component of the spell it cast. Sequential series of images might give some sense of that movement but it is a very abstract interpretation. The main effect is undesirable blurring of the light patterns during the necessarily long exposures. But with those long exposures, the camera does record things that are too dim to be visible to the human eye. I have further boosted the tonal relationships with adjustments in Adobe Lightroom. The result is still a credible representation of what I saw at the time of exposure, but a somewhat enhanced representation that reflects my photographer's vision of it.
Currently this gallery only contains photos from the two nights I have described here. I anticipate that I may evolve it into a more general gallery of my Aurora Borealis photography, adding some of my better past and future images of the subject and perhaps removing some of the more redundant existing ones.
View the Aurora Extraordinare gallery
here
.
Christmas 2013 - My Christmas Card for You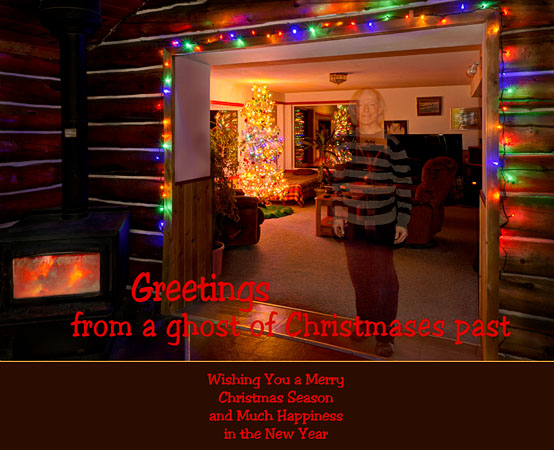 + (Click on Image)
My 2013 Christmas Card

The caption on the card image was intended for family and friends with whom I once used to routinely spend time at Christmastime. Distance put an end to that, in most cases many years or even decades ago. I have sent printed cards to them, but with this virtual version I extend my seasonal best wishes to all of my visitors to this site.
(Composite of exposures made with ambient light only and with flash.)
Pentax K-5, Tamron AF 17-50mm f/2.8 XR Di-II LD @ 17mm, f/8
August 8, 2013 - Whitehorse Photography Club 2013 Fall Workshop Series

UPDATE:
The Enthusiast workshop with Dave Brosha was postponed and re-scheduled for December 6th to 8th. It proceeded on those dates and lived up to its billing, both enlightening and inspiring us. The Beginners and Advanced workshops both were completed successfully on their scheduled dates and received many satisfied comments from attendees.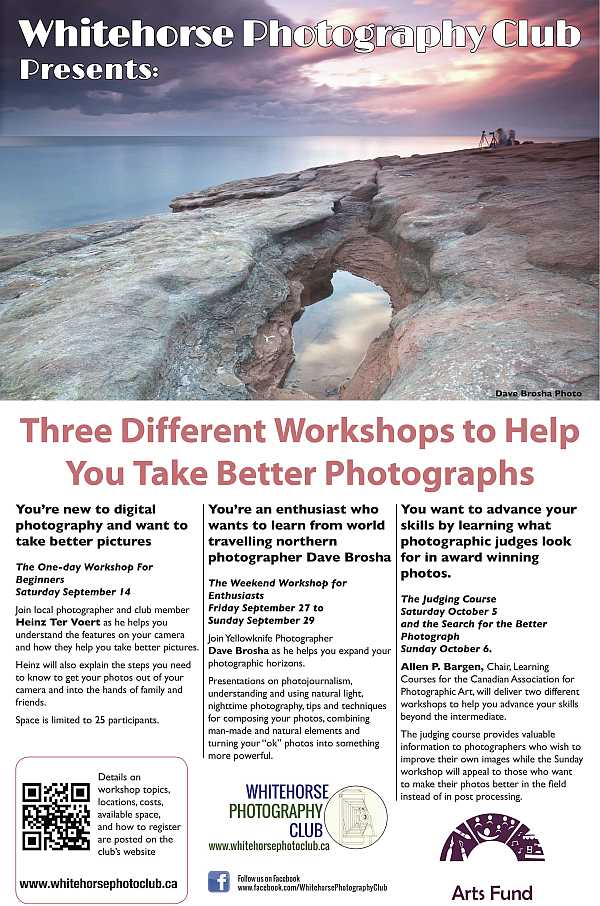 For more information and registration forms, go to
http://whitehorsephotoclub.ca/activities/workshops/
.
March 17, 2013 - New Gallery in New Format

I have just posted a new gallery,
Road Trip 2012
, which is a collection of photographs I took during a motorcycle trip to the Okanagan last August. Yes, it has been a long time coming ... and indeed, a long time since I last added any gallery to this site.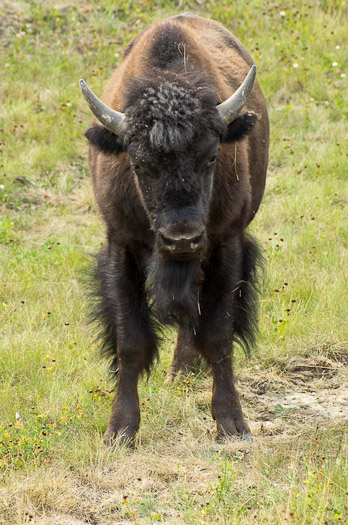 Alaska Highway Bison

My previous galleries have been Flash based and I wanted to move away from that format given its widely maligned performance and security issues and declining ubiquity of support. But I was insistent about not giving up the functionality my flash galleries provided and especially about being able to still integrate galleries into this site such that they look and feel like they belong and retain full navigation. JavaScript was the fairly obvious way to go but I had difficulty identifying a specific application that would meet my requirements. After trying and abandoning a couple, I have settled on jAlbum with the Matrix skin.
Matrix is rich in features, including display of select EXIF data and linking to Google Maps from geotagged images, and it allows considerable customization of layout and style. Still, even after I had figured out how to harness the myriad options within the interface, I had to code many inline styles and make a few edits to output files to get close to what I really wanted. I also had to design a new, flexible, wide page with top navigation to contain the gallery and suitably integrate it into this website. The result is not perfect but I am generally satisfied with it.
The gallery is embedded in its web page using an iframe, which creates a couple of issues though it is only really a problem if you are viewing on a small, low resolution display. In that case, when images need to be reduced in size to fit within the browser viewport, the iframe prevents proper resizing. If you run the browser in full screen mode or at least with all toolbars hidden, a minimum screen height of 764 pixels should be adequate if a bit clunky to use. In case this is not satisfactory or the gallery is not displaying properly in the iframe for whatever reason, I have included a link at the bottom of the page which will open the bare gallery outside of the container page. Then resizing should occur properly, though a limitation of the matrix skin with my placement of captions below the photos may still result in unsatisfactory display of vertical images.
Now that I have produced this gallery it should serve as a template for me to much more easily and quickly create other new galleries. Stay tuned.
New Galleries Main Page too!
With the addition of a new gallery, I have also rebuilt the main
Galleries
page that indexes all the galleries. This page had been a remnant of antiquated html code without css styles and structured around my original ill-advised choice of html frames architecture. I have employed the flexible, wide page format I designed for the new gallery for this page also.
Christmas 2012 - My Christmas Card to All

September 2, 2012 - About page Rebuilt and Updated

Finally I have rebuilt this website's
About
page with the more modern, compliant and manageable code that I have used for the more actively developed pages for over a year now. With this upgrade comes an overdue update to my bio, including a more recent photo. The rest of the content on the page has been almost completely rewritten. You might notice some recent "maintenance" updates elsewhere on the site as well. More to come, including more photos.
September 2, 2012 - Creative Commons License

Although I am never averse to earning a bit of revenue from my images to help offset the expense of my craft, I decided many years ago that I was not interested in pursuing photography as a career. I valued it too much as a hobby to sacrifice that to the demands, responsibilities and compromise of creative freedom that go with the profession. Still, like most creators, I do not want others to take advantage of my work for personal gain with none of the benefit accruing back to me and I worry about the potential for unscrupulous people to misuse my photos for nefarious purposes, possibly with legal consequences to me. Thus I have been protective of my copyright. This often has been an uncomfortable stance for me, especially since I started this website with my main purpose being to share my artistic vision with the world. I have resisted the precaution of marring my website images with a watermark or employing techniques that make it harder to download them, relying mostly on relatively low resolution to limit their commercial value. I know many people download images with callous disregard for copyright and really I am fine with them doing so for their personal enjoyment. I am not so thrilled that my work could be widely distributed with no credit being attributed to me as the creator. To publicly license rights for such uses with proper conditions is a legal minefield I am not prepared or qualified to navigate by myself.
I first became aware of the Creative Commons a couple of years ago. I was attracted by its facility to proffer certain usage rights to the public that I wished to allow, backstopped by a solid legal license and appropriate conditions of use. I considered adopting one of their licenses at that time but did not get around to it, partially out of concern that it did not adequately protect against use for purposes that might misrepresent me by contradicting my personal viewpoints and values. That concern remains but, on balance, the Creative Commons provides the best framework I am aware of to share my photographs without making criminals of users who respect the conditions of the license, while encouraging attribution to me and maintaining reasonable safeguards against abuse ... or at least a sound legal basis to address abuses.
I have chosen to adopt the
Creative Commons Attribution-NonCommercial-NoDerivs 3.0 Unported License
, the most restrictive of the Creative Commons license options. If someone wants to use my work for commercial purposes I generally expect compensation for this so they must negotiate a separate license with me. I am more receptive to people wanting to create derivative works using my images but to guard against them being used in ways that I would find objectionable I maintain the requirement that they obtain specific permission from me.
I have written more
here
about how this Creative Commons license applies to my images on this website.
Older News:
August 26, 2012 - Whitehorse Photography Club Website, Workshop with Darwin Wiggett & Samantha Chrysanthou

The Whitehorse Photography Club now has a
website
as well as a
facebook page
.
On the weekend of Friday, September 14th to Sunday, September 16th we presented a workshop instructed by eminent Canadian photographers and teachers, Darwin Wiggett and Samantha Chrysanthou. Follow one of the above links for more information. Visit the instructors' website at
http://www.oopoomoo.com/
.
Christmas 2011 - My Christmas Card to All
View card
August 16, 2011 - The Whitehorse Photography Club Presents André Gallant : Sept 23 to 25, 2011
The club brought this award winning, widely published New Brunswick photographer, teacher and author to Whitehorse for our annual major workshop presentation. A close associate of Freeman Patterson, André Gallant is best known for his impressionistic landscape photographs and he shared with us the techniques he uses to create these dreamy images as well as instructed us in other photographic genres. Check out André's website at
www.andregallant.com
.
Read post
July 24, 2011 - Major Site Rebuild
The main reason for this overhaul is to upgrade and modernize the source code behind the pages to provide flexibility for continuing updates. This should improve page loading as well, but there are additional important changes to enhance your viewing experience.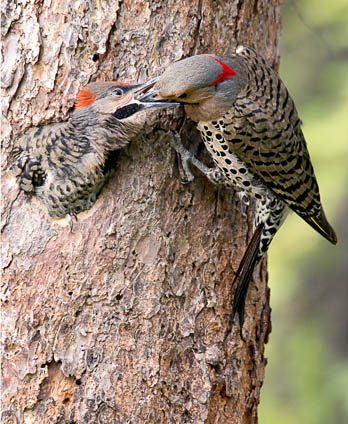 Feeding Baby Flicker

These birds were nesting in the trunk of an almost dead tree near my house. I tried for days to get a sharp photo of them feeding but their heads oscillate violently back and forth during the transfer and all I got was dozens of blurred images. The other two chicks had taken flight and it was my last chance with this late bloomer when I boosted my ISO to 4500 to achieve a fast enough shutter speed to freeze them. The Pentax K-5 was up to it and, after some work in Photoshop with the Noise Ninja plug-in, this image yielded a satisfactory 11" x 14" print.
Pentax K-5, Sigma 150-500mm f/5-6.3 APO DG OS HSM @ 400mm, 1/750sec @ f/8, ISO 4500
Read post
March 8, 2009 - New Gallery: Snow Sculptures
Snow sculpture competition at the 2009 Yukon Sourdough Rendezvous. A world class event.
Read post

May 11, 2008 - Magnified Images of Feature Photos
Clicking on an image in the main Feature Photos page opens a popup with a larger, high quality version of the photo that is an appropriate size for your screen resolution. JavaScript must be enabled in your browser for this to work.
Read post

February 18, 2008 - New Camera and Lenses = New Perspectives
Since going digital in 2004 I have been shooting with a Konica Minolta Dimage A2, a compact sensor, fixed lens camera, albeit one of the most advanced examples of its type, designed for serious photographers. Now I have purchased a Pentax K10D digital SLR, with which I can use all my old lenses from my Pentax 35mm SLR's, including my much loved Kiron 105mm f/2.8 Macro and Pentax A 200mm f/4. New digitally optimized lenses work better with digital cameras though, so I also have bought some new lenses: Sigma AF 10-20mm f/4.0-5.6 EX DC, Tamron AF 18-250mm f/3.5-6.3 DiII LD IF Macro, Pentax FA 50mm f/1.4, Sigma AF 70mm f/2.8 EX DG Macro and Pentax AF 31mm f/1.8 Limited.
Read post

December 31, 2007 - Added page for Recent Feature Photos


December 2, 2007 - Major site update ... Finally!
The first update to this site comes after much grappling with web editing concepts and methods and with uncooperative software. Improvements to the underlying structure of the pages should make future updates easier so more frequent, smaller updates are anticipated. At this time, notable additions include a
"Feature Photo"
home page feature that will be updated fairly often and a few new
galleries
in Flash format.
Read post

April 16, 2007 - Welcome to "Visions of a Contemporary Yukon Sourdough"
"After considerably more learning and preparation time than I had counted on, I am almost ready to upload my brand new website, version 0.1. As recently as six months ago, if anyone had suggested I should have my own website I would have scoffed at the idea ..."
I came to a realization that sharing my photos via this site would bolster my reasons to keep creating images and help motivate me to keep advancing my photographic and photo editing skills.
Read post