Unless otherwise stated, images by
John Reeve
on this site are licensed under a
Creative Commons Attribution-NonCommercial-NoDerivs 3.0 Unported License
. ...
more info
...
John Reeve - bio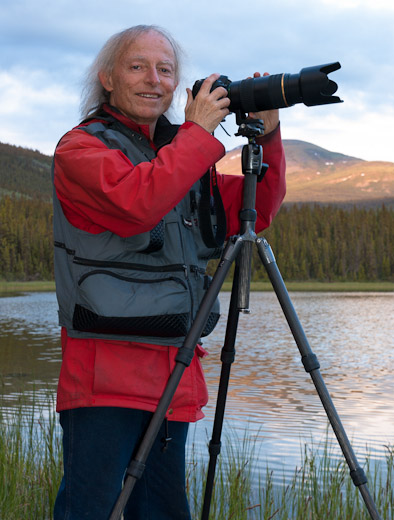 I was an 11 year old boy growing up in suburban Toronto when I bought my first camera. It was a Kodak Instamatic. I got it in anticipation of a family vacation to Expo 67 in Montreal. I remember paying $20 at Woolco, a princely sum in those days, at least for a kid whose weekly allowance was 25 cents. I quickly discovered I had an affinity for picture making and, right from the start, I was inclined to try to produce aesthetically pleasing images rather than just take documentary snapshots.
Much as I enjoyed photography, it wasn't until my university years that I upgraded to more serious equipment. The Instamatic just didn't cut it during a summer spent working on the Keewatin tundra with the Geological Survey of Canada and I coveted the Canon SLR of a fellow crew member. So before my next season with the GSC on Baffin Island I bought my first 35mm SLR, a used Pentax Spotmatic II. Fully featured for its day but devoid of any of the automation of today's cameras … it even required stop-down metering ... it proved a superb tool for honing the craft of photography and served me well for many years, carrying me into the realm of an advanced amateur.
My career as an analytical geochemist took me to various other parts of the country, initially basing me in Ottawa and seasonally in the Campbellton area of northern New Brunswick before I transferred to Whitehorse in 1982. I immediately fell in love with the Yukon and I have made it my home ever since, fortunately being able to remain even when my career opportunities here dwindled and eventually evaporated.
Joining the Whitehorse Photography Club shortly after my arrival in town was a great boon to my photographic skills and artistry. It was a dynamic organization in those days with rich cross-fertilization of knowledge, ideas and techniques amongst the many members and it provided inspiration, encouragement and critical guidance. We organized numerous workshops, bringing in pre-eminent photographers including Courtney Milne, Freeman Patterson, Darwin Wiggett and Maria Zorn. (I apologize to the many others I have left out, but these are a few who particularly influenced and inspired my own work.) My photography blossomed to a creative climax in the 1980's with all this stimulation and education. Declining participation and volunteer burnout in the 1990's reduced the club's activity level to that of a small social group but a push to revitalize in 2008 has returned it to a semblance of its former dynamism. We have full meeting agendas including guest presenters/instructors and we have resurrected the annual major workshops, starting with Daryl Benson followed by Andre Gallant. The return of Darwin Wiggett along with Samantha Chrysanthou is scheduled for September 2012. My photography again is benefiting from this avenue of stimulation and I remain a dedicated executive member of the club.
Since the mid-1990's I have made my home in a remote location just outside Whitehorse where the Yukon wilderness literally stretches from my doorstep, yet I am serviced with the "necessities" of modern life including high speed internet to help keep me in sync with the (un?)real world. My life is a mix of back-to-basics simplicity and electronic complexity, including such activities as gardening, woodcutting, hiking, snowshoeing, camping, motorcycling and, of course, photography as well as exploration of this huge digital universe accessed through the computer.
Upon the arrival of the new millennium I started dabbling in digital image editing, using a film scanner to digitize my 35mm slides, and I gradually advanced my skills in Photoshop and associated software (along with my general computer knowledge) without any real formal training. But my photography had fallen into somewhat of a prolonged slump, overshadowed by other life priorities, suffering from a shortage of motivational influences and outlets to show my work, and discouraged by recurrent film processing issues. I had accumulated a collection of Pentax 35mm equipment over the years and my overstuffed camera bag and complex equipment operation had become a burden.
In 2004 I bought my first digital camera, an advanced compact Konica Minolta Dimage A2. I didn't intend this to replace my 35mm SLR's but the simplicity of a flexible all-in-one solution was freeing and I started to really enjoy taking pictures again. The instant feedback of digital, the ease of transferring photos to the computer and the malleability of RAW image files were addictive and I haven't shot a roll of film since. Burgeoning online resources provide a deep pool of photographic inspiration and information, this website gives me an outlet for which I am motivated to keep striving to produce great images, and now the rejuvenated Whitehorse Photography Club reinforces those inputs and motivations. Having upgraded to DSLR equipment with multiple lenses and accessories, I am physically weighed down again and complexity has returned. But rather than feeling burdened by it, I am excited by the creative possibilities. Photography still is able to tickle my senses and stir my soul.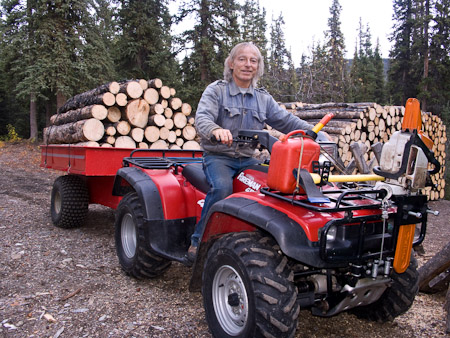 Bringing in Firewood
Departing "Gill Hotel", Aug 2006
Preparing to depart from my cousins' get-away property at Mara Lake in the North Okanagan.
Photo Taken by Victor Gill
Site Info
This website has been tested in current/recent versions of Firefox, Internet Explorer, Chrome, Safari and Opera running on the Windows operating system. Your experience may vary depending on your computer and browser configuration, but I have found all pages display and function well in Firefox, Chrome and Safari and almost as well in Internet Explorer 8 and 9. They are generally satisfactory in Opera, but when in the magnified view of a Feature Photo do NOT click the

icon to return to the originating page or that page will likely crash. Though not tested, I would expect anyone still using Internet Explorer 6 will encounter issues with page layout and some functionality.
If you experience problems viewing this site
I would like to know about it. Please
email
a description of the problem and try to include as much information as you can about your browser configuration and relevant computer specifications, including the operating system and monitor resolution. I cannot promise a solution but I will investigate to try to determine the cause of the issue and fix it if it is possible and practical for me to do so without creating other issues.
Note that no special attempt has been made to accommodate viewing this site on small portable devices. Because I approach photography as an art, I have optimized the site for a quality viewing experience on a decent computer monitor. Many of the images are fairly large and the minimum page width has been set high enough to display these within my intended layout. Small screens with resolution less than 1024 x 768 will require sideways scrolling and some images may not entirely fit in the browser window. To improve viewing on small monitors, close any unnecessary toolbars and sidebars. Try pressing the F11 key, if available, to enter (or exit) full screen mode.
JavaScript is used fairly widely throughout this site. In most cases it has been designed so that, if scripting is disabled in your browser, the content will degrade gracefully to a more basic view while some non-essential functions will stop working, but you will not enjoy the best viewing experience. Some of the galleries require flash.
Photographic images contain a lot of data and require considerable bandwidth to download. I prepare my web photos to be sized efficiently with dimensions no larger than the maximum at which they will be viewed and quality consistent with that which might be discernible in a web browser. Most users should find that pages display reasonably fast but if your connection to the internet is slow some page loads may be tedious for you.
Creative Commons License

Unless otherwise stated, images by
John Reeve
on this site are licensed under a
Creative Commons Attribution-NonCommercial-NoDerivs 3.0 Unported License
.
Additional usage rights may be negotiated on an individual basis. Please
contact John Reeve
. Licensing fees may apply and usually will apply for commercial use. High resolution image files may be provided, if required.
High quality, archival ink jet prints of most images on this site can be offered for purchase.
Contact me
for availability and pricing.
What does the Creative Commons license mean?
Click on the CC License icon or text link above or in the sidebar for a short and simple outline of the terms. The page also includes a link to the full license, which you should read and understand if you want to use any content for more than just your personal enjoyment.
Here is a summary of how the license applies to this site, specifically:
You may freely download my CC licensed images from this site for your personal use on your computer or other electronic devices.
You may share the images with others via your personal website, blog or other sharing platform. You must show a photo credit to John Reeve, a link to http://jreeve.ca and a link to the Creative Commons license. For direct person to person sharing, I ask that you simply provide the recipient with a link to the page on my website where they can view the images and download them themselves if they wish. Otherwise, if you provide the image itself then all three of the above conditions must be satisfied.
UNDER NO CIRCUMSTANCES may you sell any of my images or demand any type of compensation in connection with providing the images to others.
You may NOT use any content of this site for commercial purposes under this license. That includes any type of use on a business website, advertisement or publication, a promotional campaign or a fund raising effort. Commercial use is defined on the basis of the context that it involves selling, promoting or soliciting and it is not limited to for-profit ventures.
You may NOT alter an image or incorporate it into a derivative work. Actually, I am open to such creative repurposing but I need to know your intent before I will approve it so
email me
.
You may NOT use my work in connection with advocating or expressing a point of view if it might suggest to others that I agree with or support that point of view. You may not use my work for any purpose in such a way that it may be construed that I endorse the associated context.
This Creative Commons license applies only to images that are downloaded from this website and does not include high resolution versions or alternative edits that you might obtain elsewhere.
Note that images may contain embedded metadata that includes an All Rights Reserved copyright notification, which has been inherited from the full resolution original image. This does not prejudice the usage rights that separately are provided by the CC license.