Unless otherwise stated, images by
John Reeve
on this site are licensed under a
Creative Commons Attribution-NonCommercial-NoDerivs 3.0 Unported License
. ...
more info
...
Here is the selection of favourite images that appeared in the Home page "Feature Photo" spot in 2011.
Note:
When you click on any image it will open the enlarged version in a new window with navigation buttons to advance through the larger photos. For optimal display and full functionality make sure you have javascript enabled in your browser.
Posted December 31st, 2011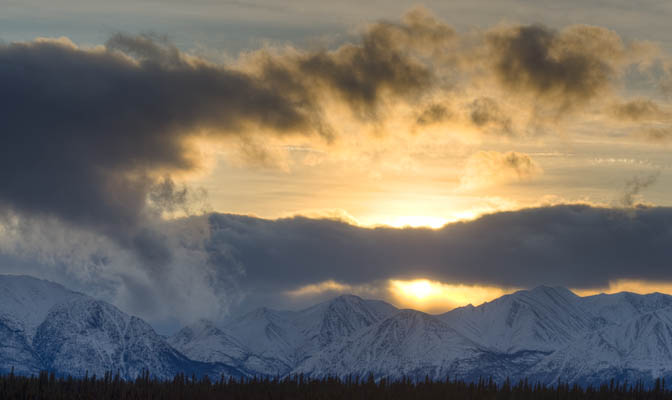 + (Click on Image)
Solstice Afternoon

Two hours after the sun had crested its low arc across the southern sky, it is about to disappear behind the distant mountains. Three exposures taken at 2 stop intervals were processed in Photomatix and further in Lightroom and Photoshop to create this HDR image.
Pentax K-5, SMC Pentax DA* 60-250mm f/4 ED [IF] SDM @ f/8
Posted November 5th, 2011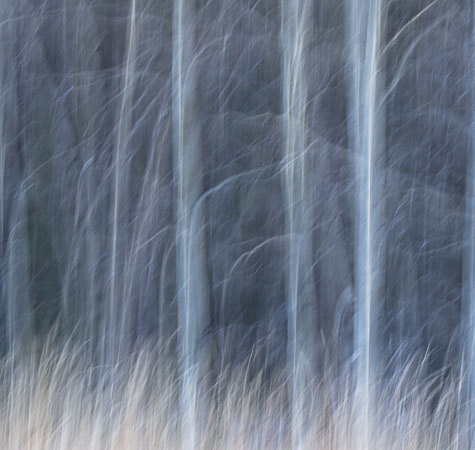 + (Click on Image)
Apparition in the Naked Forest

Winter has firmly established itself ... the rich hues of autumn are a distant memory, replaced by the near monochrome of this season. The leafless white branches and trunks of this stand of aspens stand out graphically against a dark backdrop of spruce at the base of a hillside meadow where the grasses still stand tall above the beginning snow pack. I abstracted this image by tilting the camera upward during a long exposure. You can never be sure exactly what you will get with this technique so you make lots of exposures and each one is different. I like the flow of lines and textures that developed in this one and the way it unites the grasses and the branches. And I am fascinated by an illusion that appears to me in the background, though perhaps it is just a figment of my individual imagination ... What do you see?
Pentax K-5, SMC Pentax DA* 60-250mm f/4 ED [IF] SDM @ 98mm, 1.5s @ f/11
Posted September 30th, 2011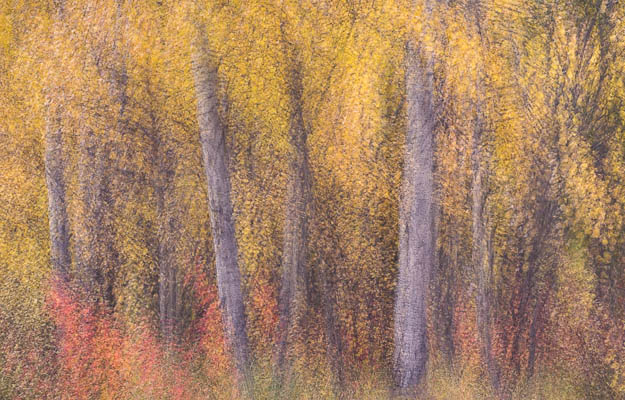 + (Click on Image)
September Woods

I made this image during last Sunday's field session of the André Gallant workshop put on by the Whitehorse Photography Club. The painterly rendering was achieved with a multiple exposure of 9 exposures made in continuous drive mode while hand holding the camera with slight upward movement. In the past I have experimented with a similar multi-exposure approach, as well as many of the other abstraction techniques that André taught, with varying levels of success. His instruction has given me valuable tools to improve on my past efforts, including "recipes" that outline what works for him, which I also will regard as a solid base for further experimentation. André's artistic approach addresses my first love in photography and this was one of the most inspiring workshops I have experienced. Expect to see a lot more similar, impressionistic imagery on this site in the future.
Pentax K-5, SMC Pentax DA* 60-250mm f/4 ED [IF] SDM @ 170mm


UPDATE: This image won an honorable mention in the 2012 North Shore Photographic Challenge, a Canadian Association for Photographic Arts (CAPA) sanctioned competition for photography clubs. I further refined the image in Photoshop before submitting it for this competition and that updated version now replaces the one that was originally posted here.

Posted September 10th, 2011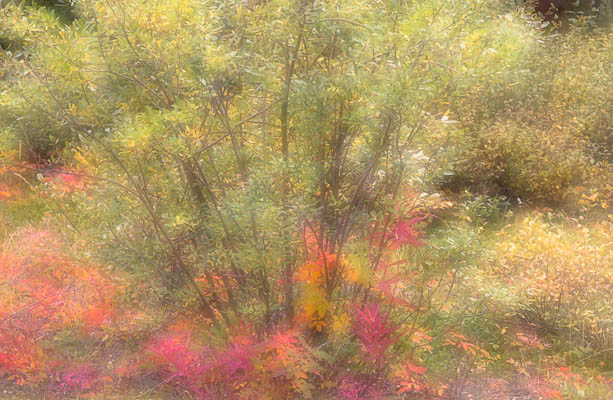 + (Click on Image)
Autumn Ground Fire

No doubt it was anticipation of the upcoming André Gallant workshop that inspired me to play with multiple exposures of the autumn foliage. Various plants in the ground cover are first to change colour and provide the most brilliant hues we see in the Yukon. The fireweed and rose bushes in my yard, seen in this photo, arguably put on a showier display at this time of year than when they are in full bloom. Alas, it is just as fleeting and the first hard frost will transform it all to a monotonous, dreary brown. So I could not wait for enlightenment from Gallant's instruction before photographing this year's especially intense display, which likely has benefitted from an unusually wet season. I double exposed the scene in sharp focus and completely out of focus to produce the dreamy, impressionistic effect. Though the weather was cold and dreary, some heavy tweaking of curves and white balance in my photo editing software produced the warmer, sunnier aesthetic that I was craving.
Pentax K-5, SMC Pentax DA* 60-250mm f/4 ED [IF] SDM @ 128mm
Posted July 24th, 2011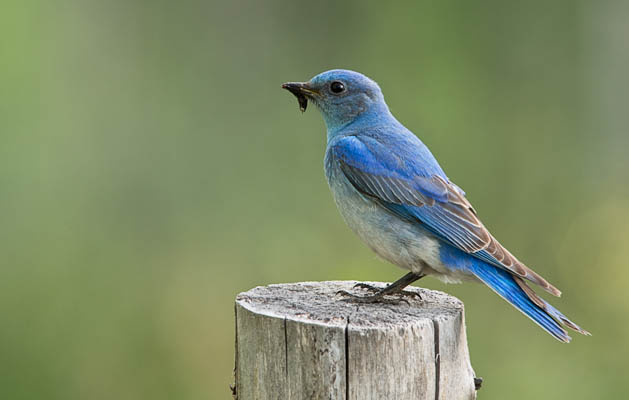 + (Click on Image)
Bluebird Bringing Home Grub

When the Whitehorse Photography Club executive held a meeting at a member's farm just outside town we had an opportunity to photograph bluebirds. They were nesting in a birdhouse and had chicks. They routinely perched on this post on their way to the nest with food for their young so this predictability made it easy to set up and be well prepared to capture the shot, while their familiarity with people being there allowed me to get fairly close. This male lingered for some time so I was able to carefully expose several good images. The long focal length in conjunction with wide separation between the post and the trees and fields beyond produced the wonderfully smooth background and the evening sun, filtered through high cloud, provided soft, warm light.
Pentax K-5, Sigma 150-500mm f/5-6.3 APO DG OS HSM @ 500mm, f/8, ISO 400
Posted June 10th, 2011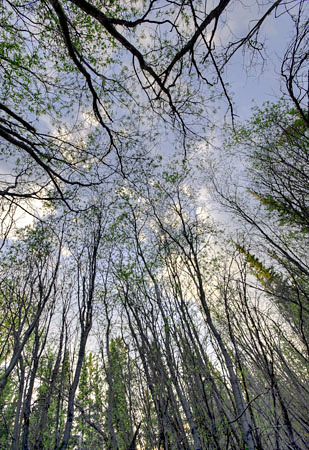 + (Click on Image)
Willow Thicket in Spring

The willows here form dense clumps of multiple trunks that often provide compositionally interesting patterns and symmetry. At this time, the not quite fully emerged fresh leaves added a delicate quality to them. I captured this photo by lying on the ground and shooting up though the patch with an ultra-wide angle lens. HDR processing of two exposures, 3 stops apart, maintained colour and detail in both the trees and the sky.
Pentax K-5, Sigma AF 10-20mm f/4.0-5.6 EX DC @ 10mm, f/9.5
Posted May 1st, 2011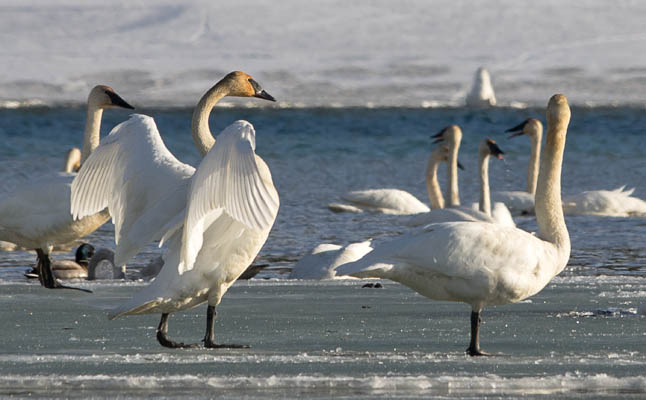 + (Click on Image)
Swan Heaven?

I have been bingeing on new equipment the past month or so and my visit to Swan Haven a couple of days ago was something of a test and practice session with the new camera and lens identified below as well as a Gitzo GK2580TQR carbon fibre tripod. Everything performed wonderfully ... except perhaps for the photographer being held back a bit by the unfamiliarity of my tools. A slow, cool spring has resulted in the swan counts peaking later than in recent years and even at this late date there is still only a small strip of open water at the site. That prevented me from getting as close to the birds as last year so I benefited less than I had hoped from having double the focal length of the lens I used then. I had to crop this image fairly heavily to achieve the framing. The evening light was wonderful, though, and that made for some successful photography.
Pentax K-5, Sigma 150-500mm f/5-6.3 APO DG OS HSM @ 500mm, 1/500s @ f/11, ISO 400
Posted March 30th, 2011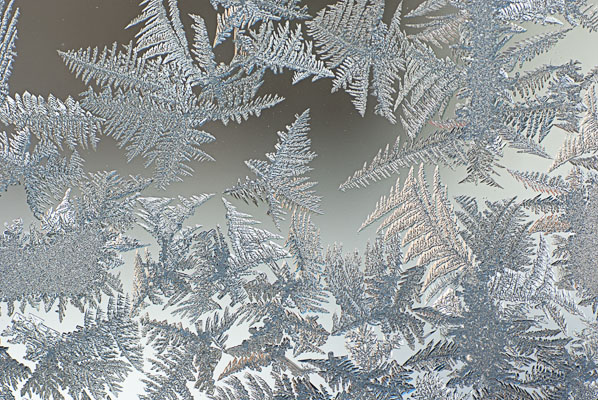 + (Click on Image)
Frosted Glass

This post got delayed as I have been transitioning to a new computer, but when I shot the image on March 19th it felt symbolic of the icy cold late winter weather that had been gripping us unrelentingly for weeks. Really though, the daytime warming effect of the March sun was largely responsible for the frost that formed inside my sunroom when the temperature plunged overnight, as the room is closed off from the rest of the house for the season. Our weather since has become more spring-like and there may be no more frost inside the sunroom this season ... I hope!
Pentax K10D, Kiron 105mm f/2.8 Macro @ f/8


Posted February 6th, 2011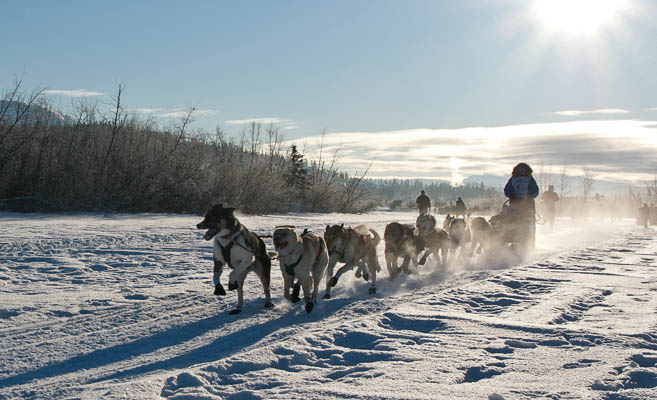 + (Click on Image)
Fresh Doggies

The dog team of musher Michelle Phillips sets out along the Yukon River just past the downtown Whitehorse start line of the 2011 Yukon Quest International Sled Dog Race. Twenty-five teams departed at 3 minute intervals on February 5th for the grueling 1000 mile (1600 kilometer) dogsled race to Fairbanks, Alaska. More information about the event can be found on the Quest's official web site
here
.
Pentax K10D, Tamron AF 17-50mm f/2.8 XR Di-II LD @ f/8, +0.5 ev exposure
Posted January 9th, 2011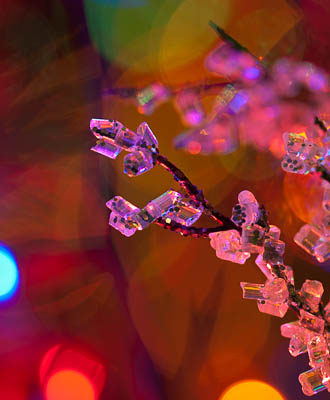 + (Click on Image)
Crystals and Coloured Lights

No, those are not really magnificent frost crystals, they are garland branches placed on my Christmas tree. The garland was new this Christmas and its specular interplay with the lights on the tree made it an obvious subject for photography. Still, as seems to happen every year, only when it was getting around time to take the tree down did I get motivated enough to make time for the photographic explorations I had been contemplating for a couple of weeks. Time spent idly viewing the subject before picking up my camera may have helped me build inspiration and ideas but this type of photography really
is
exploration and only through the viewfinder can I truly envision an image. Focused close with a macro lens with the aperture wide open, the most out-of-focus mini-lights become large, diffuse spheres of colour that interact with the tree needles and ornamentation to create unpredictable, delightful, abstract patterns. Once I get into it I am lost for hours.
Pentax K10D, Sigma AF 70mm f/2.8 EX DG Macro @ f/2.8