Unless otherwise stated, images by
John Reeve
on this site are licensed under a
Creative Commons Attribution-NonCommercial-NoDerivs 3.0 Unported License
. ...
more info
...
Here is the selection of favourite images that appeared in the Home page "Feature Photo" spot in 2013.
Note:
When you click on any image it will open the enlarged version in a new window with navigation buttons to advance through the larger photos. For optimal display and full functionality make sure you have javascript enabled in your browser.
Posted December 21st, 2013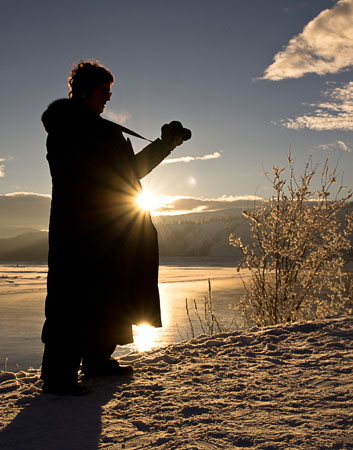 + (Click on Image)
Yukon River Photographer

The Whitehorse Photography Club's postponed workshop with Dave Brosha went ahead this month and it was well worth the wait, an inspiring weekend with an enthusiastic presenter. Minus 30° weather during the preceding week had us worried about the field session that was scheduled for the Sunday, but the gods were with us and come Sunday the temperature was up to about -5°C. Plus we were favoured with beautiful light at our shooting location by the Yukon River right at the edge of downtown Whitehorse. We were given a series of photographic assignments during the session. Dave Brosha is particularly well known for his photographs of people in the landscape, often as silhouettes, so in recognition of that I have chosen this image that I made that day for the current Feature Photo.
Pentax K-5, Tamron AF 17-50mm f/2.8 XR Di-II LD @ 26mm, f/8
Posted October 23rd, 2013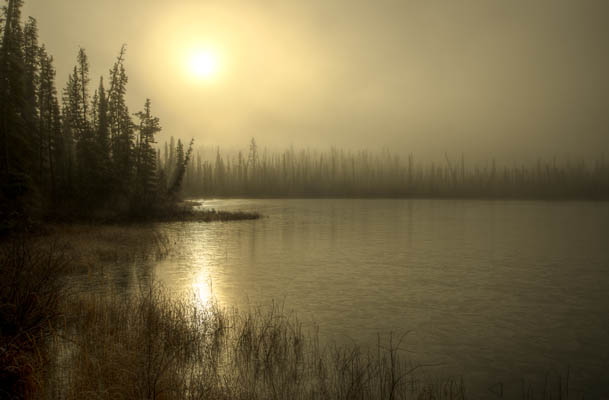 + (Click on Image)
No More Swimming This Year

A long, hot summer afforded me plenty of swimming in this lake next to my home. Warmer than normal temperatures have continued through the fall until now and the delayed onset of winter has been a godsend for me ... I have been scrambling to get in my firewood after a late start to my winter preparations and much downtime in September for rain and wind that unfortunately accompanied much of the warmth at that time. Inexorably, winter doth come though. The lake started to partially skin over most nights and then the ice cover was complete on the seasonably cold and foggy morning late last week when I exposed this image. The ice actually thawed again the following couple of days but a resurgence of colder weather refroze it solidly by yesterday. And today we have had our first significant snowfall of the season. That probably will remain on the ground until spring, but it comes 2 or 3 weeks later than when winter usually sets in at my location.
Pentax K-5, Tamron AF 17-50mm f/2.8 XR Di-II LD @ 24mm, f/11; HDR from 5 exposures
Posted August 30th, 2013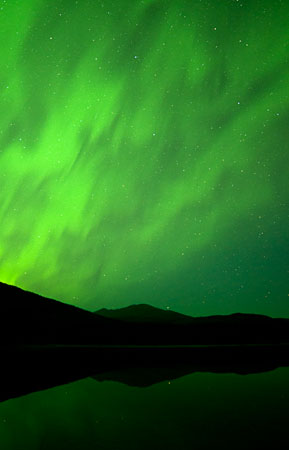 + (Click on Image)
August Aurora

August is not a typical time to be photographing Northern Lights in the Yukon, but the opportunity to do so does arise when the perpetual light of early summer has given way to a few hours of true darkness at night. It was an unusually warm night when I captured this display during the wee hours and it felt rather surreal to be shooting this subject in comfort while wearing light clothing. Though not especially brilliant or colourful, the curtains extended widely towards the southern sky and that enabled me to get this composition with them reflected in the lake. A nice accompaniment to the March 29th, 2012 Feature Photo which shows essentially the same scene except with a more typical frozen foreground. I recently purchased the fast, inexpensive but surprisingly good 14mm Bower (Samyang/Rokinon variant) lens with aurora photography especially in mind so I was happy to have this early opportunity to try it out in this application.
Pentax K-5, Bower 14mm f/2.8 ED AS IF UMC, 22 sec @ f/2.8, ISO 800
Posted July 31st, 2013


+ (Click on Image)
Fireweed Reiteration

This clump of fireweed grows right up against a deck off my house so it tempts my camera daily but it is difficult to photograph realistically without including distracting and unnatural elements. A more impressionistic approach proved satisfyingly achievable with this image. Taking advantage of the relatively soft evening light and framing tightly, I made a 9 times multiple exposure while panning downward slightly. The rendering was completed in Photoshop using the Photokit Sharpener plug-in to apply multiple sharpening and contrast enhancing effects.
Pentax K-5, SMC Pentax DA* 60-250mm f/4 ED [IF] SDM @ 170mm, f/5.6
Posted June 30th, 2013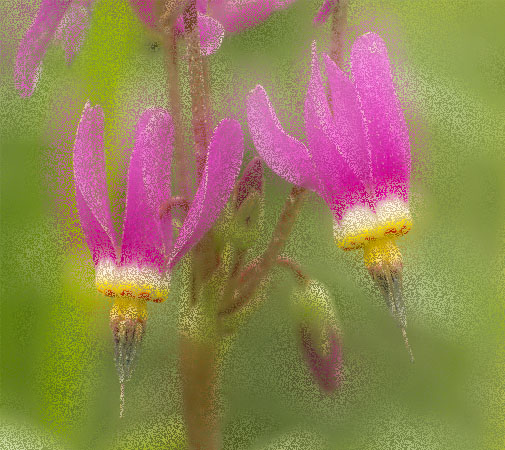 + (Click on Image)
Stardust

Dyea , Alaska has become an annual field trip destination for our photography club to photograph the wildflowers that bloom profusely there each June. The tiny Dodecatheon (shooting stars) arguably are the prettiest of these blossoms. For this image I made two exposures, one in sharp focus and the other a completely defocussed blur of colour. My original intent was to combine the two using an "Orton image" or "dreamscape" technique to produce a soft, dreamy result. However, once I had them layered in Photoshop I tried experimenting with different blending modes. The dissolve mode is one I rarely have any use for, but in this case I quite like the effect and I think it suits the subject and the star analogy.
Pentax K-5, Kiron 105mm f/2.8 macro
Posted May 16th, 2013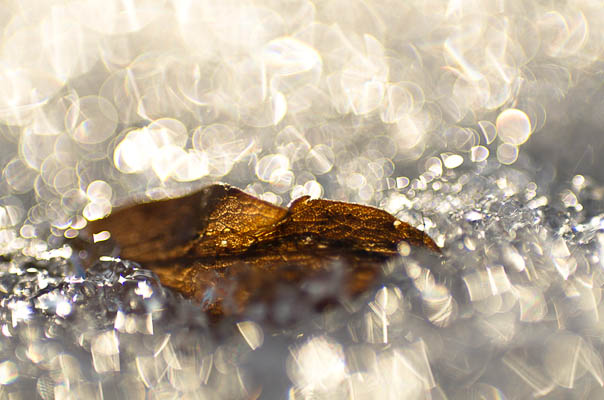 + (Click on Image)
The Lightness of Spring's Release

We are having a very late spring in the Yukon and there is still patchy snow around my home, but the long days and brilliant sunshine impart that wonderful feeling of spring nevertheless. This image of a fallen leaf emerging from the melting snow was taken in the evening, backlit by the low sun to produce specular highlights in the recrystallized snow grains. Photographed close up with the aperture of my macro lens wide open to provide shallow depth-of-field and render the out-of-focus highlights as circles, the result was a spectacular light show.
Pentax K-5, Kiron 105mm f/2.8 macro @ f/2.8
Posted April 19th, 2013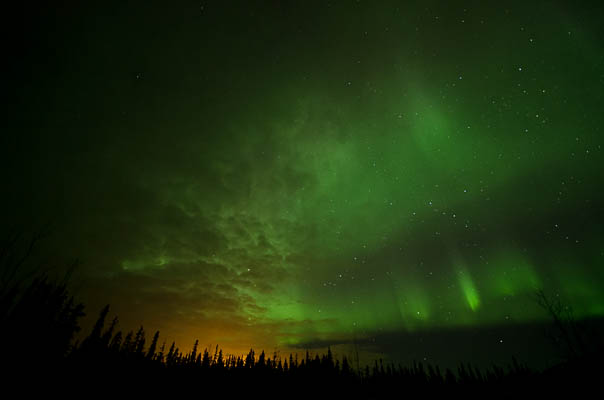 + (Click on Image)
Lightstorm

The northern lights put on a fine display in the wee hours of last Sunday, April 14th. But clouds were moving in, initially evident only in a distant orange glow above the city of Whitehorse. As it advanced, the broken cloud mass overhead became back lit by the green luminescence of the aurora. The prospect of a disappointing end to my shoot turned to opportunity with the ensuing play of light, colour and atmospheric drama.
Pentax K-5, Sigma AF 10-20mm f/4.0-5.6 EX DC @ 10mm, 14sec @ f/4, ISO 1600
Posted March 31st, 2013



+ (Click on Image)
Searching for PanSTARRS

The comet PanSTARRS had just become visible in the northern hemisphere and was to be in close proximity to the thin crescent of the moon on March 12th. I had doubts that I would be able to see it in the bright dusk before it set but I headed out in the unseasonably late sub-minus-twenties temperature to attempt to get a photo. Haze on the western horizon increased my pessimism and indeed I could see no sign of the comet through my binoculars as the twilight dimmed and the viewing window passed. I took a few shots of the moon above the mountains and when it set I went home somewhat satisfied that at least I had something to show for my cold discomfort. Only when I looked at these images on my computer monitor did I realize that I actually had captured the comet with the 8 seconds of accumulated exposure. That exposure time did somewhat blur the moon as well as the comet ... I should have raised the ISO and widened the aperture to use a faster shutter speed. Still, I like the feel of this image with the panoramic crop. If you are having trouble seeing the comet on your display, it is a light smudge to the left of the center-most mountain peak.
Pentax K-5, SMC Pentax DA* 60-250mm f/4 ED [IF] SDM @ 108mm, 8s @ f/8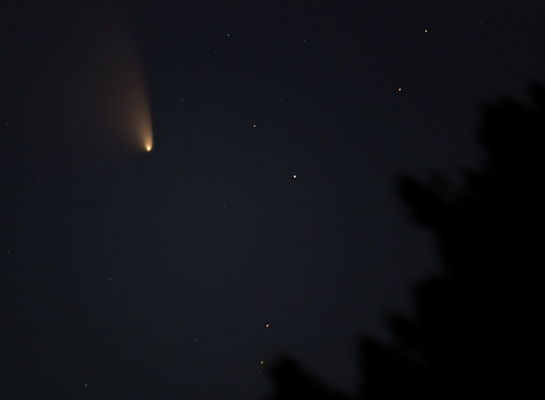 + (Click on Image)
Comet PanSTARRS - March 20, 2013

A week later PanSTARRS' path across the sky was lagging much further behind the sun and I was able to photograph it in darkness. Now past its brightest phase, I could just barely discern it with my naked eye after finding it through binoculars. With a 500mm focal length, framing it was a challenge and there were no bright stars in that area of the sky to use for reference. But with 25 seconds of exposure while using the geotracer function of my GPS to correct for the earth's rotation, I was able to record some very satisfying images of the comet.
Pentax K-5, Sigma 150-500mm f/5-6.3 APO DG OS HSM @ 500mm, 25s @ f/6.7, ISO 560, Pentax O-GPS1
Posted February 25th, 2013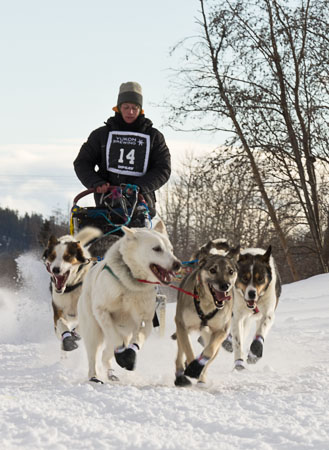 + (Click on Image)
River Runners

A dogsled team tears out of Whitehorse at the start of the River Runner 100 on February 23rd. This 120 mile overnight race organized by the Dog Powered Sport Association of Yukon was part of the 49th annual Yukon Sourdough Rendezvous festival. I was set up to start shooting optimally as the team approached closer but this initial exposure after they first appeared around a bend captured them best, though it was at a focal length that required heavy cropping to achieve the tight composition.
Pentax K-5, Tamron AF 18-250mm f/3.5-6.3 DiII LD IF Macro @93mm, 1/125sec @ f/11
Posted February 6th, 2013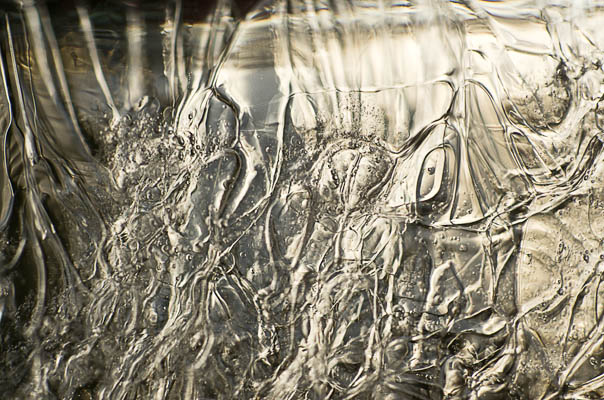 + (Click on Image)
Confusion

"Confusion" was the subject for our latest monthly photo assignment at the Whitehorse Photography Club. Along with many other members, I used abstraction to illustrate the theme. There is a natural human compunction to identify everything we see. When we have to ask "What is it?" we are feeling confused and if the label is not supplied then we attempt to resolve our confusion by imagining what it might be, based on our personal experience but also on our personal values. This can release the creative psyche to imagine things that we know are not real but nevertheless are meaningful and satisfying to us. What I see abstractly within this image also embodies a sense of confusion in the imagined subject, but of course your perception might legitimately be very different. Oh, you are wondering what is it, really? It is an extreme close-up of an icicle, photographed in vertical format at almost 1:1 macro to capture the interior textures and patterns, then rotated 90° in the final abstract composition.
Pentax K-5, Kiron 105mm f/2.8 macro @ f/9.5
Posted January 6th, 2013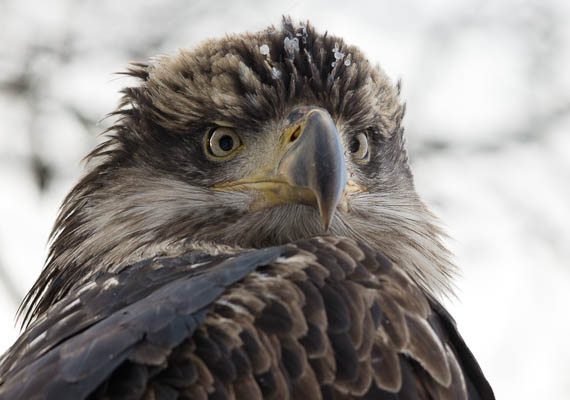 + (Click on Image)
Portrait of a Young Eagle

In the Chilkat Bald Eagle Preserve at Haines, Alaska the birds are quite accustomed to having groups of humans milling around, photographing and gawking at them and generally they seem comfortable in fairly close proximity to us. That often is especially true of juvenile eagles, perhaps the avian equivalent of fearless teens. This immature bald eagle alit low on the propped up trunk of a fallen tree almost right beside us and tolerated even closer approach by a procession of photographers. With a long lens on my camera, it was an opportunity to get some great head shots like this one. The ice clinging to the down on the eagle's head helped make it worth being out there working the camera on this cold November day.
Pentax K-5, Sigma 150-500mm f/5-6.3 APO DG OS HSM @ 500mm, 1/125sec @ f/8, ISO 800