Unless otherwise stated, images by
John Reeve
on this site are licensed under a
Creative Commons Attribution-NonCommercial-NoDerivs 3.0 Unported License
. ...
more info
...
Here is the selection of favourite images that appeared in the Home page "Feature Photo" spot in 2014.
Note:
When you click on any image it will open the enlarged version in a new window with navigation buttons to advance through the larger photos. For optimal display and full functionality make sure you have javascript enabled in your browser.
Posted December 22nd, 2014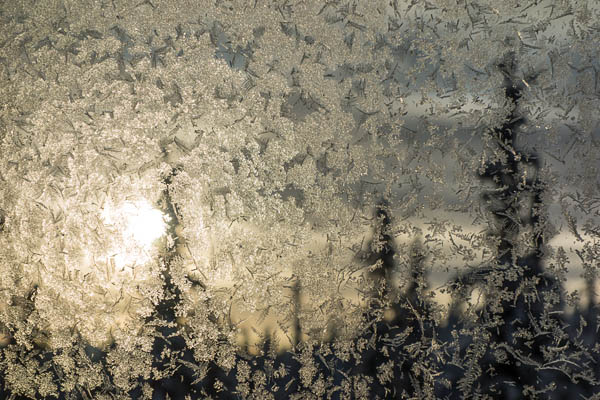 + (Click on Image)
Frozen December Sun

I recently purchased a Sony DSC-RX100 advanced compact camera and this photo is from my first session trying out my new camera. The RX100 is tiny enough to fit in almost any pocket, yet it has an unusually large sensor for a compact model and produces excellent image quality. For the serious enthusiast photographer, it is quite full featured and provides a high level of user control, compromised mainly by the inherent limitations of such a small body in terms of ergonomics and shortage of space for many usable physical controls. It won't be replacing my venerable Pentax DSLR equipment when I head out with intent to photograph, but the Sony's small size means I will routinely have it with me when I would not be packing the Pentax gear, and hopefully it will lead me to capture some worthwhile images that I would not normally shoot. The current Feature Photo was taken in early afternoon with the sun about as high in the sky as it gets at this time of year, and it really does not radiate much warmth, hence the title. The subject is one I might well have photographed with my DSLR, but I would not have been able to capture a similar image with that camera; its larger sensor would have resulted in a comparably composed shot having shallower depth of field, rendering the trees in the background as nearly unidentifiable blobs. I could have further stopped down the aperture of the RX100's lens to add more definition to the background if that was what I wanted, but I would not have been able to achieve the degree of front to back sharpness that was inherent with the still smaller sensor of my old Konica Minolta Dimage A2, as in
this Feature Photo
taken from the same spot in 2007.
Sony DSC-RX100, 36mm (97mm in 35mm equivalent), f/7.1
Posted November 30th, 2014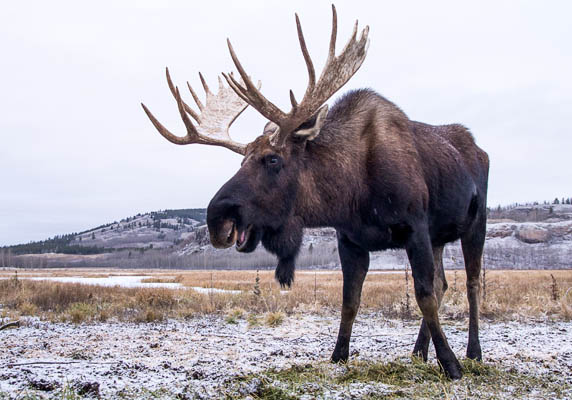 + (Click on Image)
Laughing Bull

The Whitehorse Photography Club held its annual autumn photography workshop on the last weekend of October, with the focus being on wildlife photography this year. The event culminated in a field session at the Yukon Wildlife Preserve, which is where this image of a bull moose was taken. This lone animal was said to be not well adapted to the presence of people, yet it turned out to be quite a cooperative model for our group of 20+ photographers. That said, and notwithstanding my anthropomorphic interpretation of his expression for the title of this photo, I didn't really perceive him to be laughing. His tolerance of us undoubtedly had much to do with the placement of feed just inside the corner of the expansive enclosure. Yes, I shot this through a sturdy chain link fence. While I enjoy photographing wildlife, the title may reveal that I do not take myself too seriously as a documentary wildlife photographer; I prefer making more interpretive images. However, while I carefully composed this image to exclude any man made elements, I refrained from making any post-capture edits that would in any way reduce the representation of the reality of the scene. I did have to make substantial tonal adjustments to manage the high contrast between the dark animal and the landscape, which was much lighter even on this overcast day with some light snow falling.
Pentax K-5, Tamron AF 17-50mm f/2.8 XR Di-II LD @ 24mm, 1/60 sec @ f/4.5, ISO 800
Posted October 30th, 2014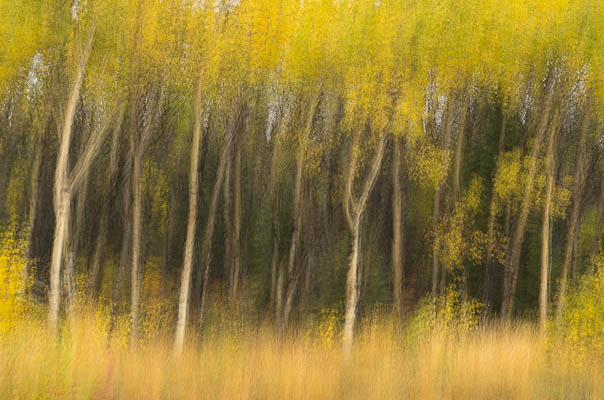 + (Click on Image)
Autumn Gold

This has been a busy autumn and it has been a while since I posted the last Feature Photo. That doesn't mean I haven't been shooting pictures; indeed, I have accumulated a backlog of images that I just haven't gotten around to doing much with. I hope to remedy that in the next while ... starting with this one which is well over a month old now. Taken from the shoulder of the Alaska Highway, it is a multiple exposure made with slight vertical movement of the camera to create the impressionistic effect.
Pentax K-5, Tamron AF 17-50mm f/2.8 XR Di-II LD @ 50mm, 9x multiple exposure
Posted August 30th, 2014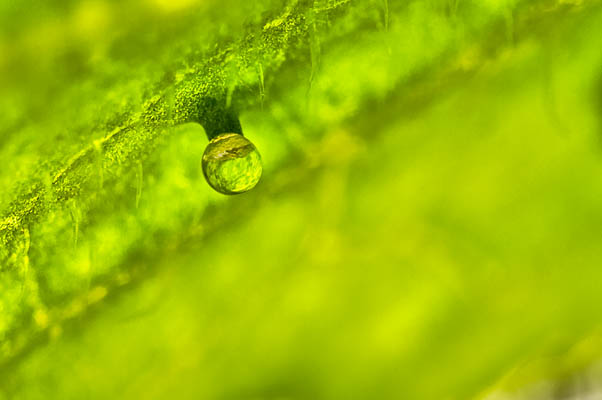 + (Click on Image)
Teardrop of a Zucchini Leaf

While examining a zucchini plant with a magnifying glass to check for spider mites, I observed a number of these curious, tiny protuberances on the undersides of some of the leaves. The spherical extrusion on each of them looks like a drop of liquid but seems to be solid; I presume it is dried sap. Perhaps these are injuries from a previous mite infestation? The plant has been unproductive since that occurrence in spite of having deep green new foliage, so it is not fully back to health.
Photographing this minute feature was quite challenging. The combination of the reverse mounted lens on my full set of extension tubes produced a magnification factor of about 17x on the sensor (further cropped by almost another 50% in the final composition). At this magnification, just positioning the tripod mounted camera to frame the subject and find focus is difficult. Depth-of-field is razor thin and precise focusing in live view is critical, but live view is noisy and unstable with this setup. The slightest vibration through the floor or a draft that invisibly stirred the leaf resulted in a blurry image. I was probably pushing the old lens beyond its capabilities in this application and even my best captures were soft with very poor contrast and contained multiple dark spots that must have been dust on internal glass surfaces. Heavy tweaking in software was required to compensate for these issues and produce this final image, which closely represents what I saw through my magnifying glass. It doesn't stand up to viewing at large size but I think it is good enough and interesting enough to qualify as my latest Feature Photo.
Pentax K-5, SMC Pentax A 28mm f/2.8 reversed on 68mm extension tubes, 1/6 sec @ f/9.5
Posted July 2nd, 2014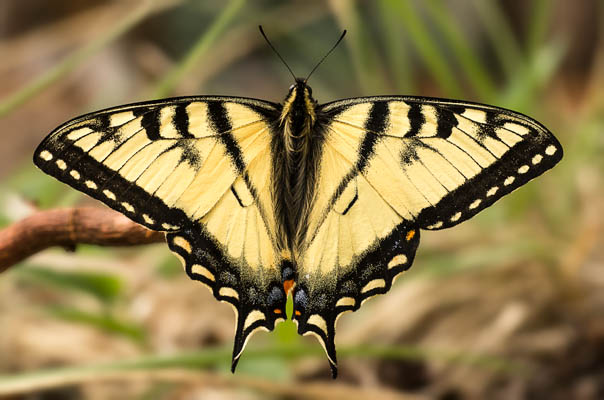 + (Click on Image)
Canadian Tiger Swallowtail

I found this butterfly crawling in the shadows on the dirt floor of my greenhouse. It was in danger of getting stepped on while I was kludging repairs to eke another year out of the decrepit structure before transplanting the starter plants that were crowding me out of my sunroom. The swallowtail obediently stepped onto a stick of wood I placed in front of it and I carried it outside and placed it in a clump of grass. The pristine wings of the specimen and its lack of any inclination to fly suggest to me that it had just emerged. It remained perched on that stick for hours in various positions with wings open and closed, giving me ample opportunity to photograph it thoroughly.
Pentax K-5, Sigma AF 70mm f/2.8 EX DG Macro @ f/8, ISO 400
Posted June 2nd, 2014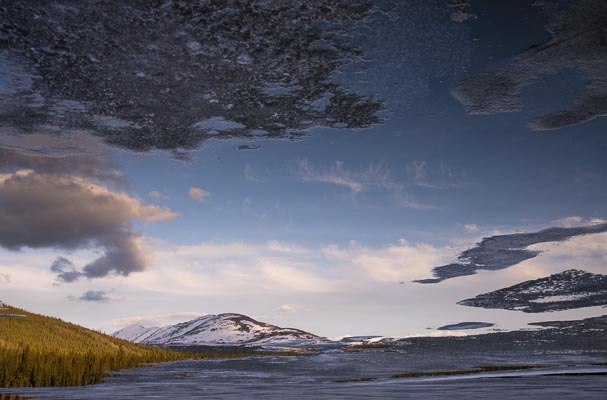 + (Click on Image)
Passing of the Ice

It is a cause for celebration every spring when the ice melts off the little lake in front of my home. Recently when it had partially opened up, I photographed it one still evening with the background landscape reflecting almost perfectly in the mirror-like surface of the open water. It is an interesting study in how our perception is shaped by experience that something as simple as inverting an image profoundly confuses our understanding of what we are looking at. Even as the photographer and the person who inverted this image, I have difficulty making sense of the reality of the scene when I view it in this orientation. But the illusion of the ice floating up into the clouds wonderfully reflects the levity I felt on the occasion.
Pentax K-5, Tamron AF 17-50mm f/2.8 XR Di-II LD @ 26mm


You may have noticed a long gap between my previous post and this one. Spring is a very busy time here, all the more so this year because I did a major reconstruction of my garden plot before I could start planting. Just before that, my main desktop computer, which I had been using for all of my web editing and almost all my photo editing, suffered a serious failure. It has taken me until this present rainy day to get my current laptop set up to do all this. The desktop is a much better platform for working on photos and I will eventually get it running reliably again, even if I have to replace most of the components in it, but I have had to put that on hold for awhile.
Posted February 23rd, 2014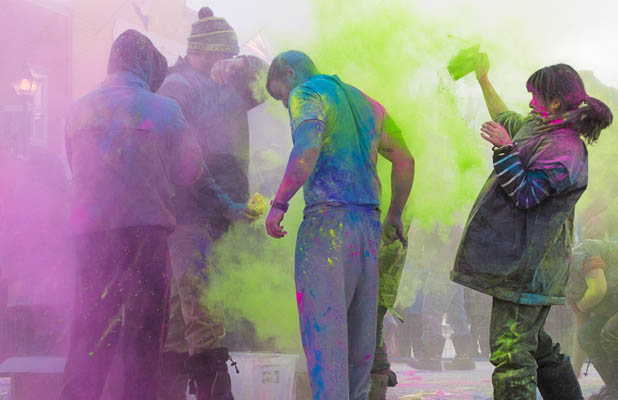 + (Click on Image)
Aurora Colour War

This was an event in Streetfest, which took place on Main Street, Whitehorse last weekend as part of the Yukon Sourdough Rendezvous festival which has just wrapped up for its 50th year. The "paint" was coloured cornstarch or flour. Though most of this year's Rendezvous was held in frigid temperatures, it began very mild as you might surmise from the attire of some of the participants. A gusting wind really blew the paint dust around however, and my camera and lens needed a good cleaning afterwards. The action was scattered over the width of the street and it was hard to predict how it would unfold even within an isolated group, so I had to shoot fast and loose; the crop tool was my friend to zoom in on the best framing after the fact.
Pentax K-5, SMC Pentax DA* 60-250mm f/4 ED [IF] SDM @ 60mm, 1/500 sec @ f/5.6
Posted January 26th, 2014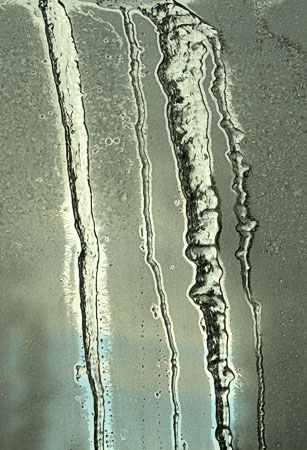 + (Click on Image)
Icicles on Glass

After heavy snows in December, a rare January thaw has turned a lot of that snow into ice. Melt water from snow on the roof of my sunroom formed these wandering, tuberous icicles as it trickled down a curved pane at the top of the wall. I liked the way the frost that formed on the glass overnight left the icicles' outlines boldly highlighted. The depth of the curved pane necessitated that I stack two differently focused images to obtain sufficient depth of focus from top to bottom.
Pentax K-5, SMC Pentax DA* 60-250mm f/4 ED [IF] SDM @ 170mm, f/8