Unless otherwise stated, images by
John Reeve
on this site are licensed under a
Creative Commons Attribution-NonCommercial-NoDerivs 3.0 Unported License
. ...
more info
...
Here is the selection of favourite images that appeared in the Home page "Feature Photo" spot in 2015.
Note:
When you click on any image it will open the enlarged version in a new window with navigation buttons to advance through the larger photos. For optimal display and full functionality make sure you have javascript enabled in your browser.
Posted December 31st, 2015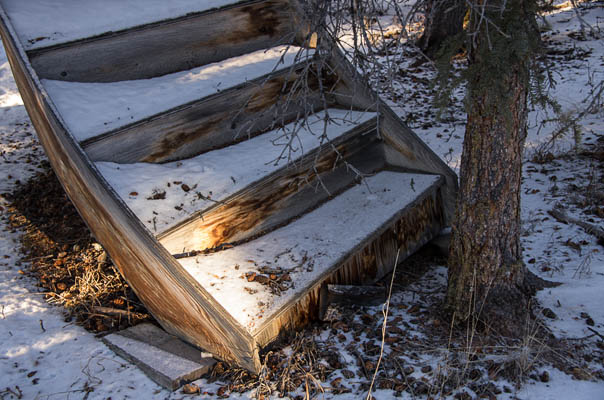 + (Click on Image)
Abandoned Stairway

This spiral staircase leads up to a treehouse on my property. It was built by the previous owner of my house for his kids. The years have not been kind to it, and it has twisted, shifted and partially detached from the treehouse. Although it is probably unsafe to climb, it is an object of visual interest in my yard so I have been disinclined to remove it. When the theme of "neglect" was chosen for our photography club's November assignment, I was naturally inspired to photograph it.
Pentax K-5, Tamron AF 18-250mm f/3.5-6.3 DiII LD IF Macro @ 39mm, f/8
Posted October 31st, 2015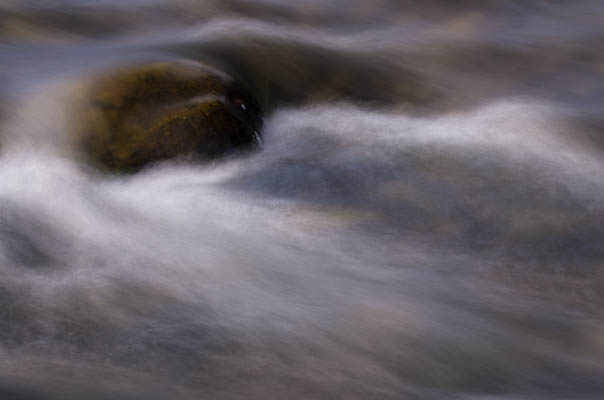 + (Click on Image)
Fast Creek Flow (Photographed Slow)

The Whitehorse Photography Club's annual fall workshop this year was led by well known, well published, Nova Scotian photographer and lecturer, Sherman Hines. The theme was "Expand Your Vision". To this end, the hands-on field session consisted mostly of technical exercises to promote seeing details that we might normally miss or perceiving them in ways we normally would not. But when the session culminated at fast flowing McIntyre Creek, we were given freer rein to creatively apply our lessons. And we were encouraged to experiment with capturing the rushing water with slow shutter speeds to smooth the flow into smooth textures that we cannot really see but only envision. People who are familiar with my photography will know that is right up my alley. For this image, I used a 3 stop neutral density filter on my lens and set a small aperture and low ISO to enable a 3 second exposure time.
Pentax K-5, SMC Pentax DA* 60-250mm f/4 ED [IF] SDM @ 88mm, 3 sec @ f/22, ISO 80, ND8 Filter
Posted August 31st, 2015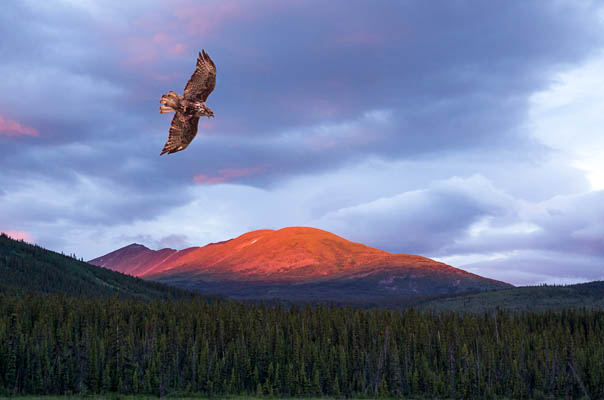 + (Click on Image)
The Hawk and the Sunset

I confess, I did not actually capture this hawk in the scene as you see it here. The hawk and the sunset were two separate exposures made on different days earlier this summer. I had photographed the hawk in mid-afternoon against a bright, milky-white sky. While recently reviewing the images, I found that I could nicely recover the tones of the underexposed subject from the RAW file, but it did not stand up to the considerable magnification that would be needed to produce a pleasing, frame-filling image of the bird. Failing that, the plain white background did not make it a satisfying photo; it begged for a spectacular scene that I could composite the hawk into, and the sunset view of Mount Lorne fit the bill. Of course, some significant tweaking of the colour balance was required to produce a credible match with the much different lighting of the recipient scene.
Pentax K-5, Tamron AF 17-50mm f/2.8 XR Di-II LD @ 50mm (hawk: SMC Pentax DA* 60-250mm f/4 ED [IF] SDM @ 250mm, 1/4000 sec @ f/8, ISO 800)
Posted July 20th, 2015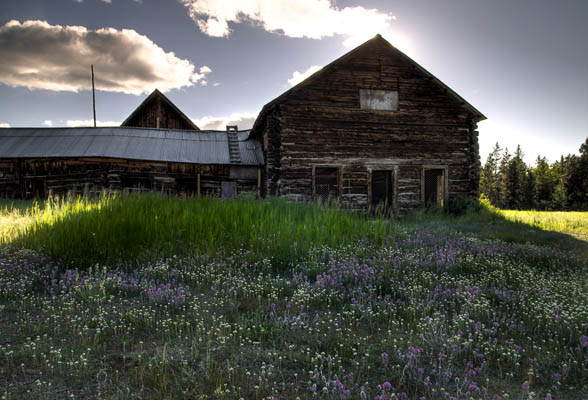 + (Click on Image)
Robinson Roadhouse Summer Evening

Another image taken at the Robinson Roadhouse site, this is a front view of the main lodge building. Built during the Klondike gold rush, the roadhouse serviced the White Pass & Yukon Route Railway. It continued to operate as a flag station on the WP&YR until the railroad shut down in 1983.
Shooting towards the sun with my main subject area in deep shade presented a challenge ... and opportunity. I found a suitable viewpoint for my desired composition where the sun itself was just hidden behind the peak of the building's roof. Four bracketed exposures combined using HDR technique in Photomatix helped to manage the tonal extremes and nicely render detail in the building and foreground field of flowers.
Pentax K-5, Tamron AF 17-50mm f/2.8 XR Di-II LD @ 17mm, f/11
Posted June 29th, 2015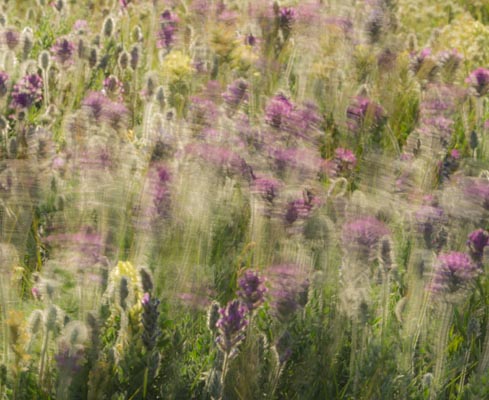 + (Click on Image)
Blowin' in the Wind

After a typically busy spring when I did not have much time and attention for photography, our photo club's trip to Dyea, Alaska (
see gallery
) got my creative juices flowing again. A couple of days ago I had the urge to make some images but I could not find much to inspire me in the immediate area of my home, so I headed out to the nearby Robinson Roadhouse. This historic site offers a number of interesting subjects, including the derelict buildings. But on a windy evening, my particular interest was to incorporate the tall grasses blowing in the surrounding open field, using long enough exposures to blur this element of my compositions. I did not anticipate finding large, thick patches of wildflowers at their prime, given that the flowers in my yard are largely finished in the wake of warm, dry weather. The flowers became the main target of my blur technique and, rather than playing a supporting role for a stronger, stationary subject as I had planned for the grasses, their motion became the entire subject of this more abstract image.
Pentax K-5, SMC Pentax DA* 60-250mm f/4 ED [IF] SDM @ 128mm, 0.5 sec @ f/22, ISO 80, ND8 (3 stop) Filter
Posted May 4th, 2015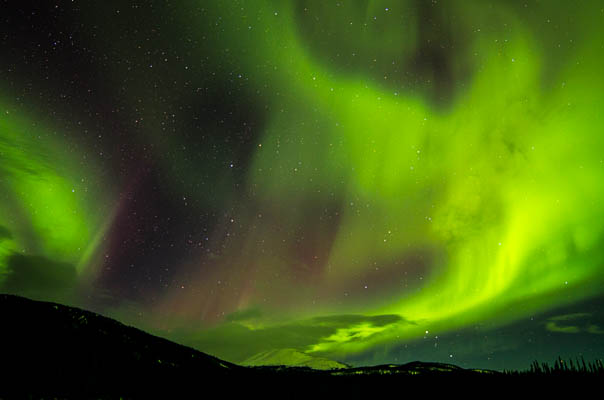 + (Click on Image)
Neon Tempest

The past two months apparently provided a lot of strong auroral activity, but we saw little of it in the Whitehorse area as our weather patterns kept us under cloud much of the time. However, during the darker part of the lunar cycle in mid-April, the clouds relented sufficiently one night to reveal one of the better displays of northern lights I have seen. Some fine tuning of white balance and saturation brought out the neon colours nicely. This was probably my last chance at aurora photography for the season ... we are at the point now where the nights are getting very short and very soon we will be into three months without darkness.
Pentax K-5, Bower 14mm f/2.8 ED AS IF UMC, 15 sec @ f/2.8, ISO 1100
Posted March 29th, 2015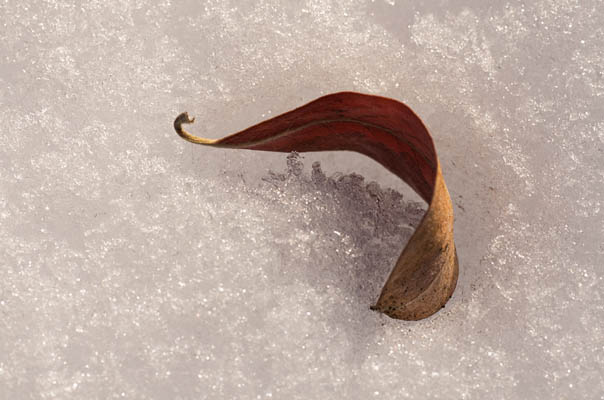 + (Click on Image)
Charmed

A favourite type of macro photography subject for me at this time of the year is objects that emerge from the melting snow pack. Caught early in the season, the recrystallized snow in this image provides a pristinely pure backdrop. I was attracted by the sensuous curves of the willow leaf. Its shape reminds me of a cobra that is under the hypnotic influence of a snake charmer.
Pentax K-5, Sigma AF 70mm f/2.8 EX DG Macro @ f/11, ISO 80
Posted February 26th, 2015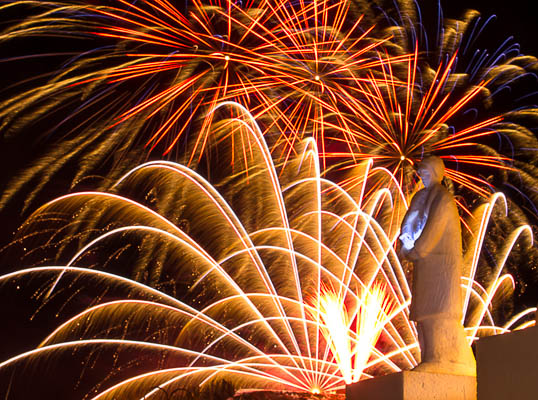 + (Click on Image)
Fireworks and Ice

This 12 second exposure captured multiple bursts of fireworks at the Saturday night celebrations of the 2015 Yukon Sourdough Rendezvous in Whitehorse. The snow sculpture in the foreground was actually just part of the winning piece by a team of carvers from Sweden. Unseasonably mild weather with daytime temperatures sometimes rising above freezing presented a challenge for the sculptors this year.
Pentax K-5, Tamron AF 17-50mm f/2.8 XR Di-II LD, 12 sec @ f/11, ISO 80
Posted January 31st, 2015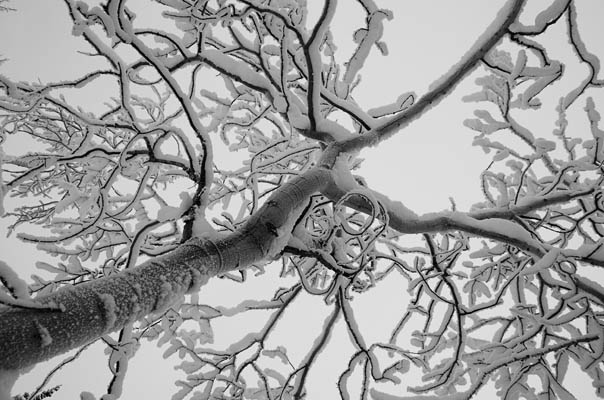 + (Click on Image)
Black and White Branches

The most recent monthly assignment topic of the Whitehorse Photography Club was straight-out-of-the-camera black and white images. I am mostly a colour photographer, usually resorting to monochrome only on occasion when colour gets in the way and detracts from an image. I am also a dedicated RAW format shooter; letting the camera bake in its processing formula and throw away information it deems unnecessary in order to produce a compressed JPEG file, seriously goes against the grain. So my initial reaction was that I was not interested in participating in this exercise. However, when I reviewed the black and white settings that are available in my camera, I came to realize that it actually offers a fair amount of user control. The purpose of the assignment was to promote seeing in black and white, but for me it turned out to be as much about learning the capabilities of my camera that I had never used, not just black and white settings but other JPEG only functions as well, and I had a ball doing it. The assignment restrictions ultimately were eased to allow basic post-capture adjustments, but the image shown here is true to the original parameters ... it is presented exactly as it came out of the camera other than being resized with standard output sharpening.
Pentax K-5, Tamron AF 17-50mm f/2.8 XR Di-II LD @ 17mm