Unless otherwise stated, images by
John Reeve
on this site are licensed under a
Creative Commons Attribution-NonCommercial-NoDerivs 3.0 Unported License
. ...
more info
...
Here is the selection of favourite images that appeared in the Home page "Feature Photo" spot in 2010.
Note:
When you click on any image it will open the enlarged version in a new window with navigation buttons to advance through the larger photos. For optimal display and full functionality make sure you have javascript enabled in your browser.
Posted December 19th, 2010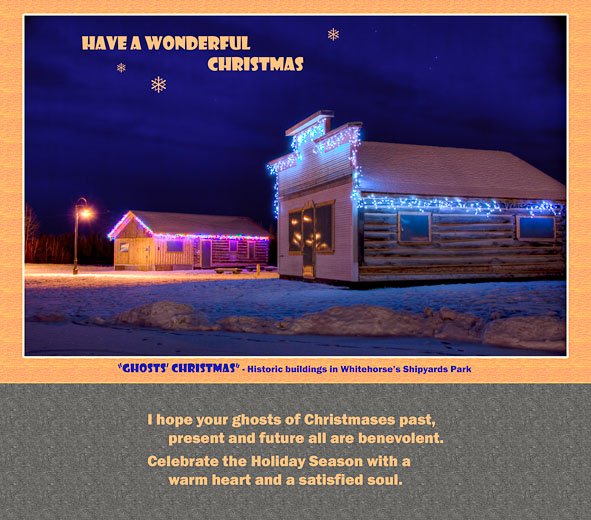 + (Click on Image)
Ghosts' Christmas

If you are not on my short list of Christmas mail recipients this is for you, the online version of my Christmas card I send to friends and relatives. I wish you all a wonderful Christmas and a New Year that satisfies body and soul. The image is one I took a year ago on the same bitingly cold, windy evening as the
January 9th, 2010 Feature Photo
. It actually is the product of 3 varied exposures combined in HDR software. I had intended to arrive on the scene before darkness set in to photograph with the twilight sky as background but I cannot seem to adapt to how early the light extinguishes at this time of year and I was too late. To my eyes it was totally dark when I set up this composition. My purpose in using HDR was to avoid blowing out the colours of the lights while providing good exposure for the buildings and snow. The light that was revealed in the sky was a surprise. But the levels boost that effected this also resulted in intolerable noise and artifacting ... I should have made an additional very long exposure to better capture that dark part of the image. It took a lot of work in Photoshop to clean it up as you see here but I am quite happy with the result. This is essentially the photo I envisioned had I been shooting in twilight.
Pentax K10D, Tamron AF 18-250mm f/3.5-6.3 DiII LD IF Macro @25mm, f/9.5, 3 exposures to 20 sec, 1 with flash


Posted November 28th, 2010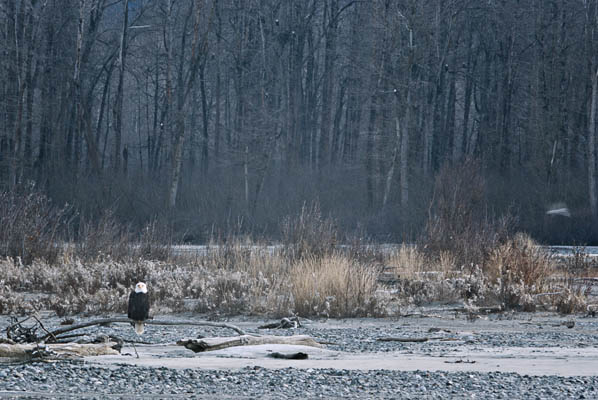 + (Click on Image)
Chilkat Greeter

Last weekend I went down to Haines, Alaska with a couple of friends from the Photography Club, mainly to photograph eagles at the Chilkat Bald Eagle Preserve. This area along the Chilkat River attracts the world's largest congregation of eagles, which at this time of year come to feast on the dying salmon that fill the relatively warm open water after spawning. Though in past years I have seen much larger, tree-filling masses of the birds, there is never a shortage of subjects. If you look closely you will notice several eagles in the background of this image. The longest focal length I have in a digital era lens is 250mm so for this subject I experimented with a couple of old long telephotos that never were very good even on film cameras, a Tokina 500mm f/8 mirror lens and the Soligor 450mm f/8 that I used to take this picture. This lens, which I bought many years ago for less than a hundred dollars, was highly susceptible to flare and produced very poor contrast on film; it is no surprise that these problems are exacerbated by the digital medium. But I was pleasantly surprised that this cheap glass proved sharp enough to satisfy the demands of the digital sensor, at least when I managed to achieve accurate focus (Oh, for a good old split image / microprism focusing screen!), and its bokeh is in a class apart from the mirror lens. And nowadays there is Photoshop. With some heavy tweaking in software to correct the Soligor's deficiencies, most of the exposures I made with it were salvageable and some are quite satisfying. Though I got many images of eagles filling much of the frame, some of my favourites were more distant habitat shots including this one looking out across the river channel.
Pentax K10D, Soligor 450mm f/8 Preset @ f/16, 1/6 sec
Posted October 24th, 2010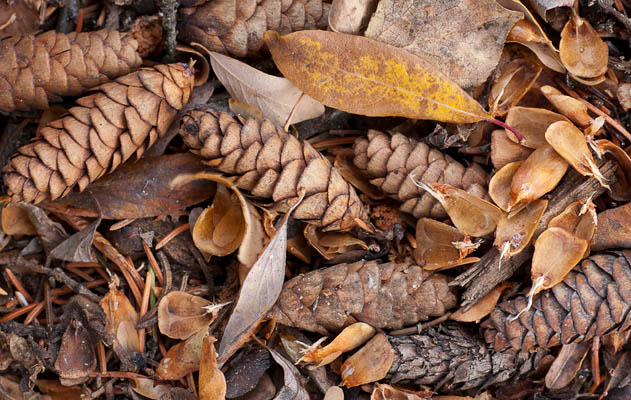 + (Click on Image)
Forest Floor
Last weekend the Whitehorse Photography Club hosted a 3 day photography seminar instructed by renowned Canadian photographer, Daryl Benson, who we brought in from Calgary. The Sunday session featured a field outing to a forested area along the Millennium Trail near downtown Whitehorse. Afterwards we reviewed some of our better images from the day and, amongst mine, this was the one that caught Daryl's attention so I guess that qualifies it to be a Feature Photo. The forest floor is mostly a chaotic jumble of elements. Daryl did not offer an explanation of why he thought this image succeeds but I believe it is because I found a semblance of order in the arrangement of cones, cone fragments and leaves in this composition, while it retains enough randomness to not seem contrived. I made another exposure at an aperture of f/16 but I like this f/9.5 version better because the subtle softness in the lower-lying cones provides a more natural 3 dimensional feel to the image.
Pentax K10D, Sigma AF 70mm f/2.8 EX DG Macro @ f/9.5, 0.5 sec
Posted September 12th, 2010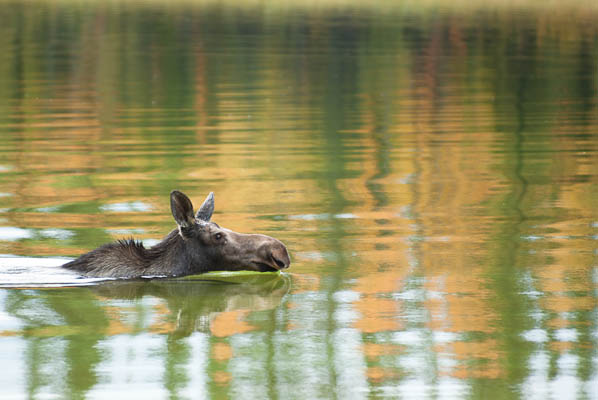 + (Click on Image)
Cow Moose takes an Autumn Swim
I often see moose browsing by the shore of the little lake next to my home or swimming across it. Usually they are skittish and make a beeline for the opposite shore to disappear into the bush as soon as they become aware of my presence so I had never achieved a decent photo of one. Hence, I was not especially filled with anticipation when a contractor assisting me with home renovations motioned excitedly for me to get my camera, pointing to the lake. But this time was different. This cow seemed to be putting on a show for my camera, periodically staring right at me between splashing around near the far end of the lake. Then she started swimming straight towards me. The autumn colours reflected in the slightly disturbed water provided the perfect painterly backdrop as she went by.
Pentax K10D, SMC Pentax DA* 60-250mm f/4 ED [IF] SDM @250mm, 1/350 sec @ f/4.0
Posted July 27th, 2010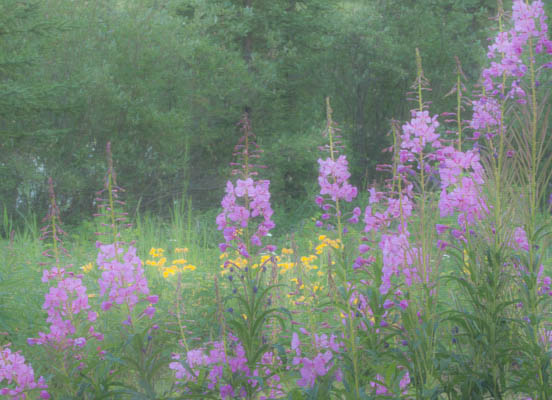 + (Click on Image)
Fireweed and Arnica
It was late evening, just after sunset when I made this exposure in the fading, flat light of the descending dusk. I shot it through a window screen which added a very subtle texture that I quite liked. That also softened detail a bit and, along with the non-directional lighting, made for an image that was lacking definition and visual punch. A common cure for that in software is to add local contrast between elements but when I tried that the result was a harshness totally inappropriate for the delicate subject matter and the enhanced detail in the foliage overwhelmed the flowers. So I tried going the other way, applying a large negative value for clarity using Lightroom 3. I was somewhat surprised how well that made the blossoms pop and the impressionistic rendering was exactly what I wanted. I find it reminiscent of the Orton technique (which combines a sharp exposure with a completely defocused one) except without the halos that method produces.
Pentax K10D, SMC Pentax DA* 60-250mm f/4 ED [IF] SDM @80mm, 10 sec @ f/16
Posted June 28th, 2010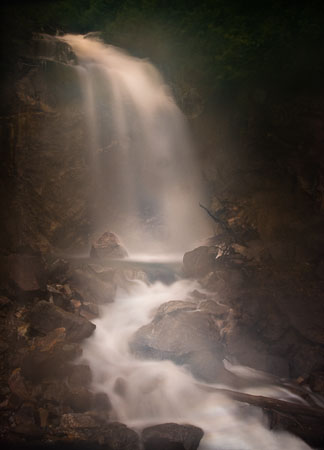 + (Click on Image)
Mystical Waterfall
Along the South Klondike Highway from the White Pass to Skagway, Alaska numerous waterfalls plunge through the rugged terrain which gets drenched in precipitation. I photographed this one on my way back to Whitehorse from a photography club outing to photograph wildflowers at Dyea, Alaska and it is my last shot of the day that earns this spot as a Feature Photo. I was trying out a new 10 stop neutral density filter to provide a very long exposure, which produces the silky appearance of the flowing water. But this exposure gave me something else I wasn't expecting, an overall misty softness. The wind was blowing considerable spray at me when I was making it and it appears that some lens fogging resulted. I consider it a happy accident. As shot, the softness was excessive and the photo looked very washed out but adding plenty of both local and global contrast in software yielded this dreamy, mysterious image. Who would think that I shot this from the shoulder of a highway with a wide angle lens?
Pentax K10D, Tamron AF 17-50mm f/2.8 XR Di-II LD @ 20mm, B+W #110 ND 3.0 filter, 89 sec @ f/16
Posted May 24th, 2010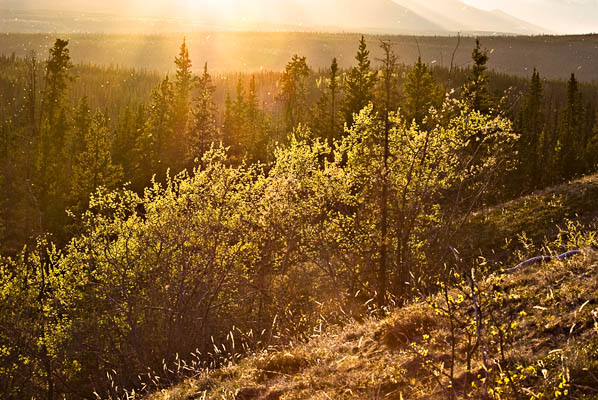 + (Click on Image)
Warm Glow of Spring
After the long winter, the first really warm weather of spring is always a salve for the soul. This glorious evening the temperature was perfect for a relaxed stroll with long photography breaks, the air was still and the bugs were not yet out in sufficient numbers to be an irritant. The leaf buds that had gone unnoticed just a few days earlier were responding to a few days of these conditions by bursting open in translucent green splendour. Over this hillside meadow the atmosphere was alive with weightless particles, floating lazily and glowing pure white when back-lit by the brilliant setting sun. I had to shield my eyes from the intense rays to see anything in this direction and that was a problem for my camera lens, which produced severe flare. This shot should have been a reject, but even in its original state I saw enough in it that captured my joy of the moment that I felt compelled to go to work in Photoshop and salvage a usable ... and emotionally satisfying ... image from it.
Pentax K10D, SMC Pentax DA* 60-250mm f/4 ED [IF] SDM @80mm, f/11
Posted April 20th, 2010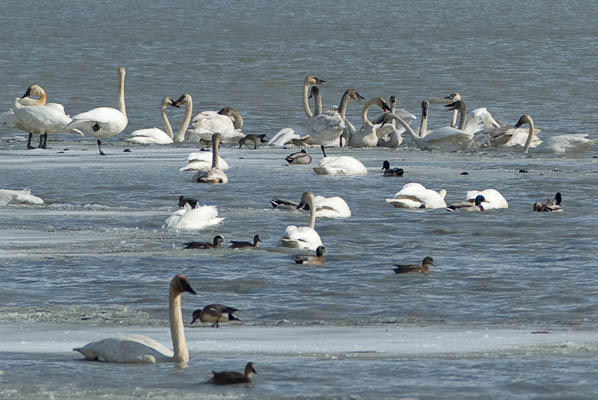 + (Click on Image)
Trumpeter Swans' Band Practice
Spring has arrived and the annual migration of the swans is well underway. They stage in large numbers at locations where the ice opens early over shallow water and they can reach the bottom to feed on vegetation. This photo was taken at "Swan Haven", a particularly important staging area where Marsh Lake drains into the Yukon River at its source. This has been a record year for them with over 2000 Trumpeters counted at this spot at the peak, though they are dwindling now as warm weather makes habitat accessible further north along their migration paths. Starting to take their place are the Tundra Swans whose shorter necks necessitate that shallower water be ice free for them to reach their food sources on the bottom. Note the "headless" birds in the photo that are eating; in slightly deeper water they often look rather comical with their butts raised and feet clawing the air.
I find photographing this congregation aesthetically somewhat challenging as it is quite a chaotic mass. Though you can get fairly close without disturbing them, a 250 mm lens still isn't long enough to isolate more orderly groupings by framing tightly. Even this composition is heavily cropped from the original image.
Pentax K10D, SMC Pentax DA* 60-250mm f/4 ED [IF] SDM @250mm, 1/500 sec @ f/6.7
Posted March 31st, 2010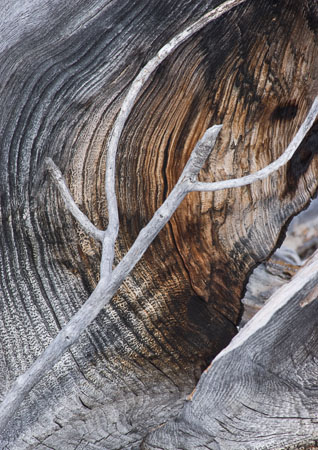 + (Click on Image)
Dead Wood Puzzle
This remnant of a toppled tree is partially uprooted, split and twisted to the extent that it is not entirely clear what is top or underside and root or trunk. The prominent textures and complex patterns in the weathered wood further provide a fascinating study of the tree's history.
The original image was somewhat washed out by a thin veil of flare. The Pentax 200 mm lens is more resistant to flare than most of my film era optics but it still wasn't good enough in the brilliant ambiance of a pure white snow covered landscape under the March sun. The subject itself was not that brightly lit, as evidenced by the slow shutter speed, yet it seems that stray light scattered into the lens from the surrounding snowscape was enough to overwhelm the darker content. A couple of simple adjustments in Adobe Lightroom salvaged this photo but other subjects would suffer unacceptable loss of shadow detail that could not be recovered. It has become clear to me that only a lens that is designed or revised for digital use will do in typical outdoor conditions at this time of year.
Pentax K10D, SMC Pentax A 200mm f/4, 1/8 sec @ f/16
Posted March 5th, 2010


+ (Click on an Image)
Fireworks and Full Moon
Pentax K10D, Sigma AF 10-20mm f/4.0-5.6 EX DC, 13s @ f/8
Fireworks at Rendezvous
Pentax K10D, Pentax AF 31mm f/1.8 Limited, 31s @ f/8
It has been several years since there last was a public fireworks display in Whitehorse and back then they always took place on Canada Day ... in the season of perpetual light!! A new annual tradition (hopefully) has begun this year with fireworks presented more appropriately at the end of February on the occasion of the Yukon Sourdough Rendezvous. They were shot off from atop of clay cliffs across the Yukon River from Shipyards Park where the festivities are held. In spite of the season, it wasn't exactly dark with the full moon competing for brilliance in the same general area of the sky. If that detracted at all from the viewing impact of the incendiary bursts, the additional ambiance certainly didn't hurt for photography.
Posted February 19th, 2010


+ (Click on Image)
Three Dead Leaves on Ice
Though the crystalline surface of the snow resembles hoarfrost, in this case it seems to be a product of recrystallization of the snow in mild conditions which have prevailed over the past month. These leaves, patterned with the telltale trails of the aspen leaf miner, undoubtedly had been clinging tenaciously to their tree until a gust of wind ejected them and transported them into my composition. Back-lit by the sun, this was a high contrast situation and exposing to retain the texture produced by the specular ice blades rendered the leaves as near silhouettes. Photomatix to the rescue, I produced an HDR composite from different exposures and massaged it into this image, which I find pleasing and fairly natural looking even if it is a bit understated compared to the brilliant intensity of the original scene.
Pentax K10D, Tamron AF 18-250mm f/3.5-6.3 DiII LD IF Macro @ f/11
Posted January 9th, 2010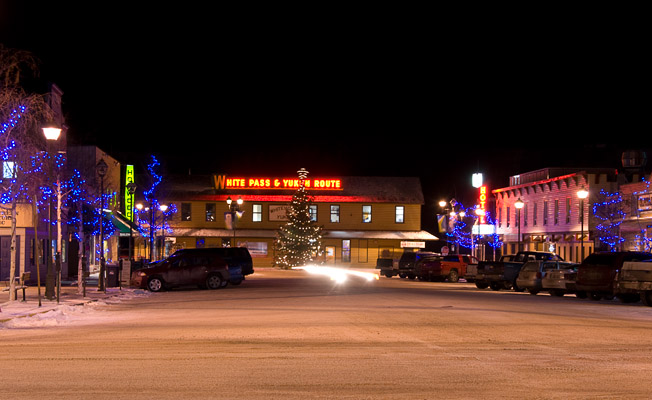 + (Click on Image)
Lights on Main Street, Whitehorse
On a brutally cold and windy evening just before Christmas, I went out with the photography club to capture the seasonal lights in the downtown area of Whitehorse. We wrapped up the shoot (somewhat hastily) here at the lower end of Main Street, standing in one of the busiest intersections in town at Second Avenue. Though traffic was light at this time, long exposures introduced an element of unpredictability as I never knew when or where vehicles might enter the scene during an exposure. In this case, a car turned onto Main Street from First Avenue shortly after I tripped the shutter. I find it a bit serendipitous how the headlights trail seems to connect with the base of the big Christmas tree in front of the historic White Pass and Yukon Route depot. The wind-induced swaying of the tree, evident in blurring and streaking of the lights at the top, helps support the whimsical illusion that it was the tree that left the light trail.
Pentax K10D, Tamron AF 18-250mm f/3.5-6.3 DiII LD IF Macro @ 47.5 mm, 10 sec @ f/13, ISO 100